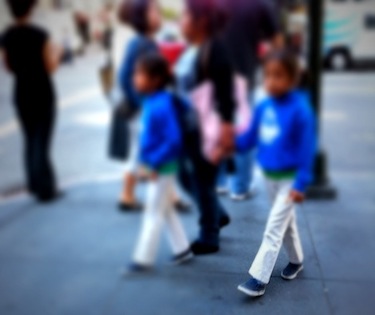 The other day I found out that three people in a new circle of friends I joined each have a twin!  What are the odds of that?!  That got me to start counting how many twins I actually know.  One pair of twins from my elementary school days, five pairs from middle and high school, two in college, and now eight sets of twins in my adult life for a grand total of sixteen sets of twins!
What impresses me about all of these twins is how well rounded and successful they all are in their careers and personal lives.  Is it a "twin thing" I wondered or just coincidence?  My instinct tells me that a healthy amount of competition and the constant support twins have with their paired siblings are a big influence on their ability to achieve and succeed.  These are beneficial traits we can all establish across all sorts of relationships and partnerships: siblings, friends, colleagues, etc.
Anything You Can Do I Can Do Better
I'm sure most of you have heard that somewhat annoying song from Annie Get Your Gun, "Anything you can do (I can do better)."  I got the song stuck in my head thinking about the balance of competition in relationships and how it affects us in our day-to-day lives and in the long term.
I think it's beneficial to have a healthy amount of competition to thrive in business, life, and to be continually motivated.  If we have no one better than us to look up to, or nobody that we actively want to beat, it's way too easy to get lazy and stagnant.  Successful entrepreneurs always know exactly who their competitors are and also continually look for ways to stay one step ahead.
A Healthy Amount Of Competition Can Be A Total Blast
I'm a bit of a clutz, but I really enjoy taking Bollywood dance classes as part of my exercise routine.  I started going with a few friends lately because it motivates me to keep going, and we also have our own competition among ourselves to see who can remember the most of each combination in class.  We crack up laughing when one of us goofs up and we're constantly pushing ourselves to outdo each other.  As a result of bringing them along, I've gotten a lot better in the class and I'm having a lot more fun!
When it comes to business, you're probably not going to be friends with your competitors but you can still have a lot of fun in the process trying to surpass them in sales, outreach, and quality.  If you find yourself getting overly stressed about how much better they're doing, take a step back and put together a game plan with small tasks you can easily achieve so you can feel the rewards of making progress.  I get so happy when I accomplish things, since any step forward is significant no matter how tiny it is.  Figure out what your company's weaknesses are and work on improving efficiency.
Get In The Game And Get Ahead
In my recruiting experience, I've found that candidates who played high school sports or participated in collegiate athletics tend to make fabulous hires.  Why?  Because they know how to work in teams and love to win.  They are fueled to train and push themselves to get better because of the rivalries they have with other teams, the pride they have in their schools, and their love of sports.  Competition fires players up, gets them pumped for each game, and makes winning all the more sweet.
Untemplaters, what do you define as a healthy amount of competition?  How would you rate your level of competitiveness?  How has that impacted your motivation and success?