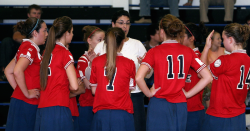 Some people are lucky to be natural born leaders adept at capturing attention and inspiring those around them. They make it look so easy! For most of us, however, leadership takes a lot of practice and time to develop. It can be intimidating being in charge of other people and having additional responsibilities on your shoulders. That's why starting early in small settings, such as at a school or volunteer organization, can help set you up for success later in larger settings. But no matter what your age, you can start practicing the below seven ways to be a better leader at any age.
How to be a better leader using 7 guidelines
Leadership and learning are indispensable to each other. —John F. Kennedy
1. Evaluate and understand the cultural and political climate
"The greatest leader is not necessarily the one who does the greatest things. He is the one that gets the people to do the greatest things." —Ronald Reagan
Every organization has its own unique flavor. If you're taking on a leadership role with an organization you recently joined, it's a good idea to soak in the cultural and political climate first before diving in. Bringing change is good, but you may need to keep some sensitivities in mind in your approach.
Determine the answers to these questions:
What are the ways success is measured?
How much time is given for results to be attained?
What are the decision-making processes for choosing and driving key decisions?
How much risk is tolerated for failed attempts at change?
How are we doing?
What is working well?
2. Organize a formal onboarding process and FAQ
"People who are led to expect that they will do well will be better than those who expect to do poorly or do not have any expectations about how well or poorly they will do. People tend to try to confirm rather than disconfirm positive beliefs that others have about them." –Bernard Bass
Do you remember your first day at work? I've had several different jobs in my career and each first day was very different from the next. I remember two of them quite well.
The first was awkward and complete chaos – my workstation wasn't set up yet when I arrived, there were no documents or instructions given to me to read through and none of my new coworkers had time to sit with me and show me the ropes. I basically was told by a stressed out supervisor to sit at some former employee's dirty desk and wait around until someone had time to meet with me. I felt really unsettled. It felt like the company totally forgot I was joining and they were completely caught off guard.
The second was smooth sailing and welcoming – a cheerful team member greeted me and gave me a tour of the office. Then she brought me to our department where a welcome kit was waiting for me on my assigned desk, which was sparkly clean. The box contained a company mug, brand new mouse pad, pens, water bottle, security badge, a printed company directory with photos and names of all the employees, company manual, departmental FAQ, etc. I instantly felt like I belonged and that the company was ready and eager to have me.
Since every organization will ultimately have new members or employees coming on board, it's a great idea to have a formalized onboarding process that you can utilize again and again. The more welcoming and prepared you are for newbies, the more excited and productive they will be. Putting together FAQs is also really useful for both new and existing members to be able to reference anytime and helps you become a better leader.
3. Identify challenges and develop solutions
"Leaders think and talk about the solutions. Followers think and talk about the problems." –Brian Tracy
Complaining is one of the easiest things anyone can do. It can also be incredibly demotivating and contagious. It's not hard to identify challenges and things that are broken. Coming up with solutions is the tough part, but it can also be quite exciting and provides a lot of opportunities to get creative and start fresh.
Don't expect to come up with all the solutions yourself either. Get your team involved, seek advice from other leaders in your organization and network with other industry professionals. Collaboration is how some of the best solutions are developed. This is one of the most important ways to be a better leader. I certainly couldn't have achieved as many things as I did in my career without all the hours of brainstorming my colleagues and I did together on identifying challenges and developing solutions.
4. Focus on growth, accountability and development
"Treat people as if they were what they ought to be, and you help them become what they are capable of being." –Johann Wolfgang von Goethe
I know all too well how creating personal development plans with your employees or team members can seem like a real drag. It's time-consuming and mentally draining. But the results can be huge and taking them seriously is another one of the important ways to be a better leader. People perform better and grow when they have clear objectives and direction. Too many leaders have a tendency to give vague development outlines to their teams. Use the SMART goals system, clarify team expectations and actively monitor performance. Clear expectations include a job description that clearly describes responsibilities, consistent coaching on the work produced, a clear picture of what is expected of the team and each individual, along with clearly defined goals.
Provide constructive feedback, follow-up and repeat. Also, make sure your team understands the importance of self-evaluation and accountability. Help your team grasp your expectations, goals and visions. Don't forget to highlight how each individual adds value and make them feel important. People support what they help create.
5. Recognize and reward achievement
"Effective leadership is not about making speeches or being liked; leadership is defined by results, not attributes." –Peter F. Drucker
All too often, people put in a lot of hard with little to no recognition or reward. How awful is that?! Surely you've experienced that before. Don't let the same happen to your team members under your watch. Get in the habit of complimenting people on the spot because if you wait, you risk forgetting.
Consider having a recognition and reward system for good performance. It could be a whole range of things – free lunch, company gift, employee of the month announcement, extra vacation day, gift cards, etc. Holding social events for your team as a whole is another great way to reward hard work, make people feel loved and build stronger relationships.
6. Get out in the field and model the way
"The quality of a leader is reflected in the standards they set for themselves." –Ray Kroc
Have you ever watched an episode of Undercover Boss? It's pretty amazing how little some leaders know about what's happening in their organizations, especially the higher up they get. Work on being a better leader by getting your hands dirty and getting out in the field or on the floor with your team. It's the best way to gain insights into their perspectives and the problems they struggle with on a daily basis. The more familiar you are with the goings on of your group, the more effective you can be as a leader.
Do your best to practice what you preach and be a strong role model. Observations can be really powerful and affect how we interact with one another and perform. Think about social learning the whole "nurture" aspect of parenting – children tend to act out what they observe and the same goes for teams. How do the individuals in your group react based on their observations of your behavior and actions?
7. Ask tough questions
"Those who let things happen usually lose to those who make things happen." –Dave Weinbaum
Another one of the ways to be a better leader is to be courageous enough to ask the tough questions and work on resolutions. Here are just a few examples.
What are the toughest obstacles?
Are we better off retiring some initiatives in favor of others?
What opportunities are we ignoring?
Where can I take greater ownership?
How have I let the team down?
Compared to other teams how are we doing?
When was the last time I complimented individuals and the team?
How often and how openly am I giving direct feedback?
Are there individuals that I should discipline or remove?
Think about one of your favorite leaders. Chances are they are using the above ways to be a better leader and you can too. Having a positive and open mindset can really help you strengthen your leadership skills no matter what your age or experience.
Leadership abilities are a fantastic set of skills that are transferable across industries and organizations that you can take with you anywhere. Even if you don't plan on staying with your current organization, use the time that you have now to work on the above ways to be a better leader and your future is bound to be brighter.
Break free!
If you're burnt out of your day job, believe that you have options and can turn your career around for the better. I didn't believe I could escape the grind for the longest time, but fortunately I wised up before stress destroyed my life. I never would have thought I could negotiate a severance package and get paid to leave a job I grew to hate, but I did! Learn how you too could get paid to leave your job like I did and open your eyes to new opportunities.
Untemplaters, are you currently in a leadership position? What have you learned from it so far? What are some of the ways you've utilized to strengthen your skills as a leader?