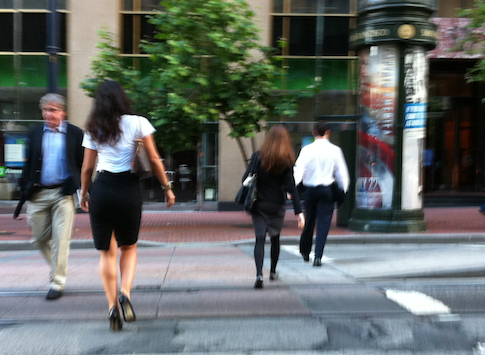 Women are hard to figure out. If men could figure out women, think about how much more harmony there would be in this world! No fights, no divorces, no monetary leakage to lawyers, and happier children. With happier children, there would be less psychological trauma, less crime, less drugs, and less war. Yes, to have peace on earth, men must do their best to understand women. Women should do the same, especially since men are much easier to figure out.
This post is an attempt to create more peace on earth by understanding first of all, why some people (primarily women) hate beautiful women in the workplace. Women need to sort out their differences first, before men can make amends. Hopefully we can have a mature discussion at the end of this post to learn more perspectives. To get any awkwardness out of the way, I'd like to say that beauty is in the eye of the beholder. It's up to you to imagine what is deemed unattractive and beautiful.
I do my best to focus on a person's substance. If they are easy on the eyes, great. If they are not, it does not matter because I'm listening to what they are saying, not what they are rocking. Now onto the story.
NO FOLLOW UP
I went to a party over the holidays and met tons of wonderful people. I got to know one woman who was nice, but not particularly attractive. Let's call her Janet, as in Janet Reno. I thought we developed a good rapport, so I decided to introduce her to another woman I met who happens to be very attractive. Let's call her Jessica, as in Jessica Alba.
Janet and Jessica are both moving to a new state next year, and I thought it would be great for them to connect. As soon as I introduced Jessica however, I noticed Janet's facial expression turn from cheerful to somber. As a long time poker player, I naturally pay a lot of attention to one's facial expressions and body language. Janet's body slumped as she looked Jessica up and down before managing a fake smile.
Meanwhile, Jessica was all cheerful and upbeat as she should be to meet a potential new buddy in a new state. I wished them luck and left the two to chat as I headed home. When I traded e-mails with Jessica recently to see how things were going however, Jessica mentioned Janet never bothered to respond to her e-mail! Jessica had written a "nice to meet you" e-mail with plans about when she'll be moving to the new state. At least Janet could have responded with a simple "nice to meet you too" sentence back.
As it turns out, Janet is a very bitter woman. She got pregnant at a young age and the deadbeat father left soon after to be with another woman. Given such trauma occurred at such a young age, it's easy to understand how Janet can be very leery of strangers and distrusting of other women, particularly those who have talent and beauty.
Now that we understand a little bit about Janet's background, we should be able to forgive her for treating a beautiful woman unkindly.
WOMEN NEED TO STOP BASHING OTHER WOMEN
It's sad that Janet and Jessica aren't going to be friends because I think they'd make a great duo. Having a great friend is priceless. Alas, because Jessica is attractive, there is no way Janet is willing to promote Jessica's work. Janet fears that as soon as her clientele discovers Jessica, it is the end of Janet!
As a manager in the workforce for the last five years of my career, I cannot tell you how many fires I've had to extinguish between women. It's almost always the case where one woman is at least five years older, and the younger woman is more attractive. The more attractive woman would complain to me why the less attractive woman was giving her the cold shoulder. Meanwhile, the less attractive woman would complain to me how "inappropriate" the more attractive woman would dress, speak, walk, and talk. In other words, the complaints were not based on substance, but only on looks.
Women need to stop bashing each other in the workplace and in business. When you're busy bashing each other, you aren't busy working on becoming the best employee or entrepreneur you can be. Instead, hatred is wasting your time and it's not worth it! It is fantastic there are professional womens groups within organizations to help support each other though and I hope they will address issues like this. Big sister mentorship programs are also a great idea to foster collaboration and other positives. Let's continue such support!
Men clearly have similar types of issues in the workplace, however, I can tell you straight up that men don't give a damn about another man's looks. We may use another good looking man's physique or chiseled face to remind us to dress better, shave more, wear nicer clothes, and workout more at home. But other than that, we're too busy focusing on producing better work.
SO WHY DO WOMEN FEEL THREATENED?
When looks are hereditary, there's nothing an unattractive or beautiful woman can do about it. But you know what? Only guys seem to think this way because we're simple creatures. Women have a tremendous amount of ways to "beautify" themselves. Women can wear makeup, accessories, wigs, and a plethora of different clothes to match one's desires. The only thing men have in common with women in the "look better category" is watching what we eat and working out.  Men pretty much look the same, regardless of what we wear because we can't naturally alter the way we look.
When I was a manager, all I wanted was for my colleagues to work in peace. Let's focus on the task at hand and not about looks! I've come up with reasons why some women dislike beautiful women.
* Men love beautiful women. A man will always choose a beautiful woman over an unattractive woman if they had a choice, and all else being equal. Given women know this, there is a fear that another woman might take away their man.
* Beautiful women get more attention. When you're beautiful, everybody cuts you more slack. Perhaps I should clarify and say that men give beautiful women more slack, whereas other women will probably rip a beautiful woman a part for any wrong doing! When you get more attention, you get more opportunity in the workplace.
* Unequal playing field. Even though beautiful women can't help looking beautiful, unattractive women find they have an unfair advantage. When inequality exists, there are riots on the streets. Just look at the Occupy protesters! The question is, should we ask beautiful women to ugly themselves so that there is an equal playing field? Of course not! If you've got it, flaunt it!
* Jealousy is unavoidable. We've got to make due with what we've got. If we don't, we become self-destructive people given we let our jealousies take over. For example, in personal finance, instead of working on our own multiple income streams, we find it easier to harp on those who are doing well for themselves. If you become a hater, you are doomed for failure!
CAN'T WE ALL JUST GET ALONG?
If all men can love beautiful women, all women should also love beautiful women. Sure, you might not get as much attention from people if you're unattractive, but if you also develop a bad attitude, nobody is ever going to give you the time of day.
I urge all of us to do our best to focus on the substance of people instead of their looks. We'll not only be able to fix our own negative predispositions, we will then allow more people to see us in a kinder light!
Readers, why do you think some women dislike beautiful women? It's not their fault they are beautiful. Why can't we just focus on a person's substance and performance instead of their looks?
Best,
Sam