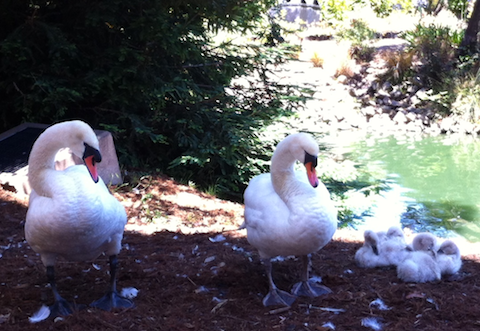 I recently finished up the regular season for my USTA 4.5 tennis league with a hard-fought, two-hour long doubles victory. The match went 3 sets and came down to the wire at 4-4 with our opponents serving. Jim had a rocket serve that traveled close to 120 miles per hour. We could barely see the thing as it stayed low and skidded off the court.  His second serve was just as fast.
Ironically, Jim was exactly who we wanted to serve because his flat serves left very little room for error.  As soon as you start tightening up, your serve is the first to go.  Without a proper kick-serve to safely spin the ball in, it was only a matter of time before Jim double faulted.  Up 30-15, Jim's double faults finally came – not once, but twice in the most critical of games.  Jim ended up getting broken, and it was then up to me to serve it out for the victory at 5-4.
Every step of the way, I could hear my friends shout, "Go Sam!  Go Team!"  Each outburst gave me a jolt of courage to keep on marching through on a day where our eyes would blur due to the sweat from our foreheads.  There is nothing harder than trying to close out a match up 5-4 and serving.  My stomach starts churning and my limbs stop cooperating because I'm so nervous I'll blow the game!  It didn't help that we were on the opposing team's home courts and 30+ of their supporters started shouting out our opponent's names!
Even if our support group was outnumbered 20-to-1, I could still hear their cheers.  I ended up getting all my serves in and closing out the match.  With a huge sigh of relief, I yelled out, "Go public park!", in defiance to other fan's incessant chants right before I was about to serve to psyche me out.  I shook hands with my opponents and thanked my friends for their support.  One of the voices that stood by us for the entire 2 hours was Sydney's!  For the first time in my life, I went undefeated at 7-0 thanks to the support of Sydney and others.  I'll always remember this season and that day, as well as those who came out to cheer.
SUPPORT IS ALL ONE NEEDS
Looking back upon my successes and failures, I've come to realize the support of friends and family is more valuable than gold.  When I was in high school, I didn't want my father to watch me compete because I was embarrassed to lose.  I was also afraid of criticism.  I wanted to make him proud, but how could I if an opponent blew me off the court?  I decided then that it was better to never let him watch me play just in case.
I regret my decision now because I know my dad would be proud to see me compete at my prime, no matter the outcome.  I'm no longer bothered as much by criticism since I've achieved a lot of what I wanted to achieve as a middle-aged adult.  Instead, I am a criticism seeker where after every match, I ask the spectators and my teammates what I did wrong so I can improve.
Sydney and my father are currently helping me edit my first book on how to profitably quit your job and pursue a life you've always dreamed.  It's a long slog, putting together tens of thousands of words in a hopefully entertaining and coherent format that is deemed purchasable by the general public.  After more than a month of working on it, I needed a break and asked them if they could have a look and provide feedback.  Sydney and my father have come to my rescue and are going through every single word to help produce the best possible product.
I'm so relieved I get to take a break from writing my book because writing a book for purchase is much different than writing an article online.  I want to make sure all the spelling, grammar, and transitions are perfect.  I want the book to be incredibly helpful to the buyer as well as entertain the reader along the way.  I want to do the same for my posts, but the pressure is different because I'm not earning any money from you.  Writing a book is very draining, especially while on sabbatical!
Thanks to Sydney's help, I plan to produce content for Untemplater.com and run the editorial calendar until she's done with her editing.  Sounds like a mutually beneficial trade!  Thanks to my dad's help, I'll try and win more skins and greenies the next time I play at his monthly golf club outing!
FRIENDSHIPS LAST
It's during those most nervous moments where having support from friends is so crucial.  Think back to all your most memorable life moments:
* Graduating from high school.
* Graduating from college.
* Getting your MBA.
* Celebrating your first job.
* Getting fired and having someone accompany you to the unemployment department.
* Celebrating your first promotion.
* Winning or losing a crucial sporting event.
* Getting married.
* Giving birth to your first child.
* A miscarriage.
* Getting a visit in the emergency room after suffering a nasty spill.
* Quitting your job.
* Launching your first product.
* Experiencing a death of a loved one.
All these events leave an indelible mark.  Undoubtedly, you'll always remember those who have been there for you.  Support is really all one needs.  We need to be there for our friends and be there for them no matter what the outcome.  At some point, they'll need our support, and we'll be more than happy to be by their sides.
Regards,
Sam