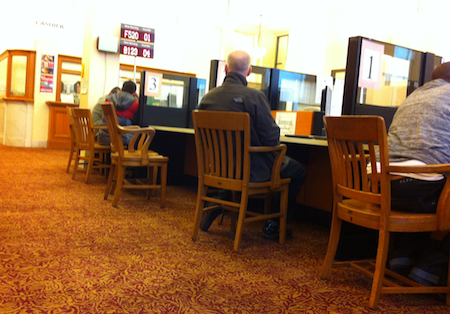 Unless Congress passes legislation to extend federal unemployment benefits in 2013, no unemployed person will be eligible for more than 26 weeks of state maximum unemployment benefits. Gone will be the days of 99 weeks of unemployment benefits or even the proposed "Shock & Awe Yeah" program that provides five years of insurance.
Once January 1, 2013 hits, millions who receive federal unemployment benefits are on their own. There may be some serious financial consequences for people who rely on unemployment insurance to survive, especially those who are older or who have been out of the work force the longest.
Suddenly, there is a daunting fear that maybe being "funemployed" is not that attractive a proposition anymore as state unemployment rates dip below crisis levels. Those who used their time off to start a business, travel the world, or be extremely picky about the jobs they take will have to make some tough choices. National unemployment after all, is now 7.8% and improving.
SHOULD FEDERAL UNEMPLOYMENT BENEFITS BE EXTENDED?
Yes They Should
In some countries such as France, the unemployed get roughly 70% of their last year's salary for an indefinite period of time. In the United States, the maximum unemployment, no matter how much you make is only about $24,000 a year. To achieve the maximum in unemployment benefits, you need to earn about $45,000 for one year.
Let's say you were making $150,000 a year and lost your job in France. You'd be able to earn a healthy $105,000 a year as you look for work. But in the US, the most you will get is $24,000, depending on which state you live in. Given this comparison, you can see how the US provides woefully less unemployment benefits vs. France and other socialist countries such as Denmark, Holland, Norway, and Sweden.
$24,000 a year isn't exactly a lot of money to live off, especially given employees have paid into the system for likely more than 26 weeks. $24,000 can barely get you a one bedroom apartment in San Francisco. Then you've got food, clothing, transportation, and other job hunting expenses to pay.
To simply shutoff all unemployment assistance come January 1, 2013 would be a travesty.
No They Should Not 
The Dow Jones Industrial average is up over 100% since the crisis lows and sits at roughly 13,500. Rents and property prices are recovering in major cities such as San Francisco, Los Angeles, and New York City signifying rising demand and income. Restaurants are packed and roads are traffic jammed again. Meanwhile, people are more mobile than ever to go where the jobs are.
By any stretch of the imagination, the recovery is in full swing. If you've received 26 weeks of state unemployment benefits and still haven't found a job, perhaps there might be something off with your job search strategy or intent. There are plenty of minimum wage jobs that pay $10 an hour that go unfulfilled. The problem is by receiving $1,800-$2,000 in maximum unemployment benefits a month, it's better to just do nothing.
Meanwhile, entrepreneurship is brutally difficult compared to a day job. Not many people are going to dedicate all their time and effort to start a business if they continue to receive unemployment benefits. Hopefully, Untemplater readers don't see entrepreneurship this way and are actively looking to create their own lifestyle businesses.
At some point, the country needs to gradually cut off the amount of unemployment benefits so that it no longer becomes a crutch. When we make benefits "temporary" for years, we risk expectations shifting towards permanency. I have friends who play tennis all day and don't work because of government assistance. They aren't rich, but they do lead pretty great lifestyles. However, one definition of rich is not having to work for money!
THE FOUR FEDERAL UNEMPLOYMENT TIERS AT RISK
After you exhaust your 26 weeks of State unemployment benefits, you used to get the following from the Federal government at the height of the crisis:
1) Emergency Unemployment Compensation Tier I is for up to 20 additional weeks
2) Emergency Unemployment Compensation Tier II is for up to 14 additional weeks
3) Emergency Unemployment Compensation Tier III is for up to 13 additional weeks
4) Emergency Unemployment Compensation Tier IV is for up to six additional weeks
According to the chart below, you can see a tremendous decrease in the total amount of weeks given due to the improving unemployment rates in various states as of November, 2012.
TOTAL AMOUNT OF EMPLOYMENT DECREASING FROM 99 WEEKS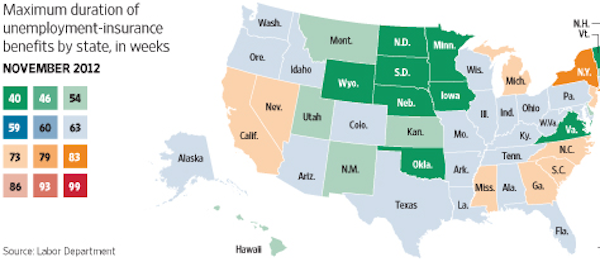 CONCLUSION
There will be no fiscal cliff, nor will Congress not pass legislation to extend Federal unemployment benefits in 2013. Although the government has given everyone on benefits a warning this past summer, there are new people who are unemployed every single day who need the money.
Nobody should judge others without walking in their shoes first. If you believe the government should cut off all federal assistance in the New Year, just want out because one day you might need a helping hand.
Update 1/9/13: Washington DC passes a new budget and extends unemployment benefits for another one year through 2013. The clock is ticking.
Strong Recommendations To Improve Your Finances
* Manage Your Finances In One Place: Get a handle on your finances by signing up with Personal Capital. They are a free online platform which aggregates all your financial accounts in one place so you can see where you can optimize. With your finances at risk, now is more important than ever to track where your money is going! Before Personal Capital, I had to log into eight different systems to track 25+ difference accounts (brokerage, multiple banks, 401K, etc) to manage my finances. Now, I can just log into Personal Capital to see how my stock accounts are doing and when my CDs are expiring. I can also see how much I'm spending every month. Personal Capital takes less than one minute to sign up!
* Never Quit, Get Laid Off Instead. Learn how to negotiate a great severance for yourself inHow to Engineer Your Layoff! By getting laid off from a job you wanted to leave anyway, you can collect a severance, health care insurance, deferred compensation, unused vacation days, and be eligible for unemployment. The book provides helpful case studies and a framework for you to have a strategic conversation with your manager on how to profitably quit your job.
Regards,
Sam