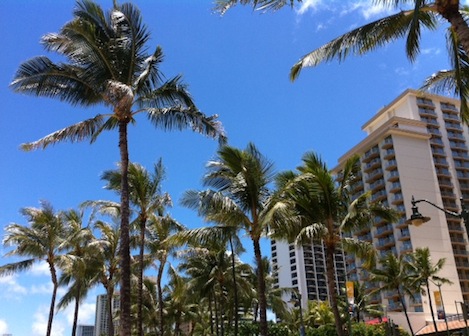 At some point in time you could be faced with the decision of whether or not to purchase a timeshare.  Attendance at timeshare presentations is mandatory at many resorts now, and when they aren't mandatory, there are often lots of bonus incentives, retail and spa discounts, or free gifts to cleverly lure you in.
It is at these crafty presentations that most people are persuaded into making the financial plunge into the timeshare kingdom.  I can tell you from my own experience that timeshare sales people are like TV infomercial hosts on crack.
LIGHTS CAMERA ACTION PRIZES

The extensive slideshows, voluminous prize games, and tours of the best suites on the property can easily eat up hours of your day if you're not careful.  And the tenacious sales staff will stick to you like glue, saving all the incentives and freebies for the very end, and making it quite difficult for you to sneak out early.  They will talk and talk and talk until you just want to scream, "OK I'll do it!" just to get them to stop their sales pitches.
However, these glossy displays and free perks are merely an opaque shroud to distract people from the truth behind the investment.  In reality, timeshares serve no real benefit to the customer; they can actually be rather damaging to one's budget over a long period of time.
SNEAKY MARKETING TRICKS
For starters, the presented images or on site tour of a timeshare that is exhibited to you by a salesperson or brochure can often be misleading and inaccurate.  Many times customers are disappointed to find that the property they purchase is not nearly in as great a condition as the one advertised to them.  Same goes for the rest of the properties domestically and abroad that are pitched to you as part of the exchange program.
From this point the whole scheme begins to fall apart and owners start to search for ways to get rid of timeshare units. One infrequently observed fact about timeshares that buyers often overlook is the tourism peak/off peak time periods.  Most timeshares are only popular enough to pull in heavy traffic during certain seasons or time frames, thus seasonal competition isn't very uncommon. This means that the buyer only has a chance of increasing their income within the allotted time that customers choose to visit, given that they happen to decide on residing there at all.
FEES FEES AND MORE FEES
Along with this, there are many fees that come with timeshares, which many people do not initially account for.  One of these is the yearly maintenance fee that the buyer has to pay, regardless of whether or not the property is in use.  Also, other ownership fees that tend to be overlooked are ones that an individual may think would be included in the maintenance fee.
These include the utility billing and taxes, which sales agents rarely ever include in their presentations as you could be charged nightly taxing of $20 or more.  In addition, people are usually unaware of the trading and exchange costs that take effect when the owner decides to make their stay at an alternate location than agreed upon.
JUST SAY NO
Retrospectively, these facts stand to make it apparent that a timeshare is much more of a negative investment than many people are led to believe.  Upon truly analyzing the details, costs, and hidden fee veiled by the coercive exhibitions put on by the timeshare company advertisers, it is not arduous to come to the conclusion that investing in timeshare property will likely lead to nothing more than an extra expenditure for the consumer.
If an individual has revenue to gamble with and discard at will, holding little hope of making financial growth, then perhaps a timeshare investment is worth the endeavor. But, if you intend to try and sell your timeshare once you have had enough, this simply is not a viable exit solution.
Don't get suckered into spending an entire day of your vacation listening to a sales pitch.  Grab a towel, sunscreen, and your flip flops and head down to the beach.  If you see a sales rep approaching, run as fast as you can until they lose sight of you, then buy yourself a $12 margarita to celebrate.
Untemplaters, have you ever had to sit through a timeshare presentation?  Were you able to escape?