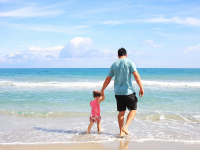 The following post is sponsored by Haven Life, which offers the first place to buy life insurance online in just 20 minutes. Compare that to the traditional 4 to 6 week timeframe common with most insurers. The Haven Term policy is issued by MassMutual, which has an A++ rating from AM Best.*
When I was in my 20s, life insurance didn't cross my mind at all. I remember reading something about free life insurance coverage as part of my employment benefits when I joined my last firm of 10 years, but I didn't read that much into it. Most people in their early 20s don't need life insurance anyway, so it wasn't a big deal that I wasn't paying attention at the time.
Fast forward to late 2014. I was preparing to leave my employer in the coming months and knew I would be losing my free life insurance coverage. So I decided to get a 30-year term life insurance policy to keep my family protected. I certainly hoped I wouldn't ever need it when I signed my docs, and I still hope I won't. But we just don't know what can happen in life. And I chose to start paying for my own policy because I'd rather be safe than sorry when it comes to protecting and caring for my family.
The real troubles in your life are apt to be things that never crossed your worried mind, the kind that blind side you at 4 pm on some idle Tuesday. – Mary Schmich, Wear Sunscreen
Little did I know that at 4:30 pm on some idle Thursday back in January how much that lyric would ring true in my own life. I unexpectedly found myself in the hospital for emergency surgery, courageously putting my own life in someone else's hands that day. I didn't have much time to process what was happening, but when I was wheeled into the OR I do remember feeling a sense of comfort that I had a life insurance policy if God forbid I wouldn't wake up later that evening.
Thanks to an excellent team of doctors, I woke up several hours later and made it through my recovery in the weeks that followed. I never expected I'd have surgery in my 30s, but lo and behold I did. I certainly hope and pray that I will never get cancer, some other terminal illness, or die prematurely from an accident, but I really can't fully control whether or not that happens. None of us can.
When to consider getting life insurance
If you don't have life insurance, it's beneficial to at least understand when you may need it. If you meet any of the below criteria, you may want to consider getting a policy.
Married, engaged or in a serious long-term relationship with mutual financial obligations
Have kids or plan to start a family
Support your parents or other dependents
Have mortgage debt, sizeable student loans or medical bills greater than your assets and that a loved one would need to take on
Lack the funds to pay for burial costs (roughly $7,000 – $10,000) or other final expenses
Own a small business in which you play a major role
Term life insurance versus permanent
Even if you don't need life insurance, at least take a second to learn the two types: term and permanent. I'm a big fan of term life insurance, which you can get easily with Haven Life – more on that below. Now here are the main differences between term and permanent.
Term life insurance is sufficient for most people. It gets the name term because it is typically offered in specific time periods or terms. The most commonly offered term lengths are 15, 20 and 30 years. I chose a 30-year policy to keep myself covered into my 60s.
The way many term life insurance policies work is you agree to pay a fixed premium amount for the duration of your policy length (unless you decide to cancel prematurely) in exchange for a guaranteed pre-determined lump sum to be paid out to your beneficiaries if you should pass away within the designated time frame. It's a nice cushion to have if you want to take care of loved ones.
Term life policies are popular for their simplicity and affordability. For example, a 20-year, $500,000 policy from Haven Life for a healthy 30-year-old man can cost around $24 per month. The catch, if you want to call it one, is that if you want to get a new policy when your term is up, it's going to be really expensive. The older you get, the more expensive policies cost. Makes sense, right? That's why it's important to get ample coverage while you're young and healthy in order to secure the best rate class.
Permanent policies on the other hand don't expire after a set time frame. They're good for your entire lifespan as long as you pay your premiums. So, if you want coverage into your 80s, 90s or whenever you die, even if you develop a severe health complication later in life, your loved ones would be guaranteed payment. But it's much more expensive and complicated.
A whole life policy for the same 30-year-old man could cost upwards of $430 a month. Not many people want to fork over that big of an expense. If you do, however, you'd be getting a policy that builds cash value over time, which allows for policy loans (not the best idea because it can lower your death benefit), and can grow with interest. Some policies also have the potential to pay dividends, although dividends are not guaranteed. In other words, the amount paid out to your beneficiaries when you die can fluctuate depending on a number of factors.
Benefits of life insurance
Here's a look at several ways that the proceeds of a life insurance policy can help your family financially.
Burial expenses – Figuring out funeral arrangements isn't a pleasant experience for anyone, but there isn't much time to sort things out when someone dies. Life insurance can help cover these costs and take some of the stress away. Most people have no idea how expensive funeral arrangements are until they are faced with the task of finding a mortuary or crematorium.
The last thing I want my family to worry about if I die is panicking they can't afford to pay for the type of service I would want. Did you know many families wind up spending $15,000 to $30,000 when it's all said and done? Shocking! Price has a lot to do with location, the type of services and "merchandise." It's a good idea to get educated about the various options and expenses way in advance to figure out what makes sense for you and your family when you're not emotionally vulnerable.
Help pay off debt – Debt is pretty common these days even amongst responsible adults. If you have debt of your own now or anticipate getting a loan in the near term, say for a mortgage, it's definitely something to take into consideration when it comes to life insurance. If you were to die unexpectedly you probably wouldn't want your debt burdens to fall on your loved ones, especially since they may have their own loans to pay off.
Life insurance can provide your beneficiaries with the cash flow to help pay your loans and settle your accounts quickly. That's not to say you should start spending recklessly if you have a large life insurance policy of course. In addition to student loans, auto loans and mortgage debt, the proceeds of a life insurance policy can be put toward medical bills or unpaid taxes.
Help replace lost income – If you have dependents, they will unfortunately lose your active income streams, such as W2 wages and consulting income, when you pass. A life insurance policy can help fill the void and protect your family from financial risk as they adjust to changing lifestyle circumstances and financial commitments. The rule of thumb is typically to take out a policy that's 6 to 10 times your salary. This is also a good reminder to work on building passive income streams and diversify.
Help cover living expenses, education and emergencies – If you have children or dependents, a life insurance policy can make a big difference when it comes to daily and long-term expenses. Knowing that housing, food, utilities, childcare, transportation and education costs will be covered for X amount of months can give all of you some peace of mind now and in the future.
Protect assets – Even if you already own a lot of assets that could be liquidated if something should happen to you, your family may not want to sell them in the short term. Or, if one of the assets you have is a house, you have to remember that it could take time to sell. A life insurance policy can help keep your assets protected by providing your family with cash flow while deciding whether to sell. If you are a small business owner, a life insurance policy could also help buy your heirs and company time to implement a succession plan.
Tax-free death benefit – As Benjamin Franklin wrote, "in this world nothing can be said to be certain, except death and taxes." Although a life insurance policy won't be able to get you out of taxes you legally owe from your income and investments, life insurance payouts are tax-free for your beneficiaries. Any way to save on taxes should be music to your ears; it certainly is for mine. Plus, if you're feeling generous, you could also list a charity to receive a tax free payment from your plan
At the end of the day, a life insurance policy can help you and your family sleep easier at night. It's a pretty priceless feeling knowing that your family will be taken care of if anything should happen to you.
Explore life insurance plans the easy way
If you're ready to get a term life insurance policy or are just curious to learn what affordable options are out there for you, check out Haven Life. Not only does Haven Life offer the first place to buy life insurance online, and thus drastically shorten the several week process associated with traditional companies, you can also compare their pricing to that of top rated insurers.
Not sure how much insurance is right for you?
Haven Life also has a life insurance calculator and quote options you can use to educate yourself on your life insurance needs and the associated cost. Haven Life's simple process is spelled out in plain English and is pretty devoid of confusing legal jargon. What's also great is Haven Life is backed by MassMutual's 165 years of financial dependability – something you want when you are purchasing a 30-year promise to your loved ones.
Untemplaters, do you currently have any life insurance coverage? Are you paying out of pocket or covered by your employer? What was your experience like applying for life insurance?
*The rating is as of June 15, 2016 and is subject to change. MassMutual has received other ratings from different rating agencies.
Haven Term is a Term Life Insurance Policy (DTC, ICC14DTC) issued by Massachusetts Mutual Life Insurance Company (MassMutual), Springfield, MA 01111 and offered through Haven Life Insurance Agency, LLC