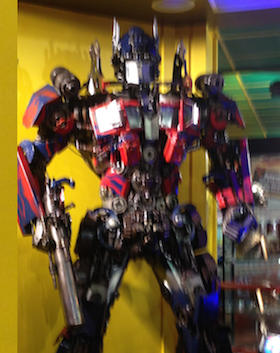 As a frugal person who enjoys personal finance, I am continually amazed at the growing number of financial tech (fintech) companies. A lot of them are headquartered just a stone's throw away from where I live, ie Personal Capital, Motif Investing, Wealthfront, and FutureAdvisor just to name a few. And I find it fascinating how these companies are revitalizing a stuffy, beaten down industry and simplifying how we invest.
Since I'm no longer working full-time, I'm watching my money closer than ever before. I've been looking for ways to increase the automation of my savings and investments. What I've learned so far is there are many new technologies offered by these fintech companies that help take the stress out of managing money while also saving time. How is it possible to have such prevalent access to the best financial software companies? Robots!
Robo Like Robo-Cop? What Is A Robo-Advisor?
You might be wondering, "Um, robo-advisor? What's that?" Well, the definition is really as simple as it sounds. You take robo from the word robot and advisor from financial advisor, mash 'em together and you get robo-advisor. In other words, robo-advisors provide clients with automated financial services and advice through the aid of computers, algorithms, and financial tools.
Are robo-advisors safe? Whether or not you should get a robo-advisor or stick with a human one depends on your level of trust, knowledge, risk tolerance, and ability to let go. An important question to ask yourself is: What could a robo-advisor do for me if the markets come crashing down?
Robo-advisors can show you how to diversify your portfolio and even save you time by submitting trades and rebalancing on your behalf. Perhaps the excitement and allure of robo-advisors is just a fad. Or maybe they are just the right balance we've all been waiting for that falls in between do-it-yourself investing and hiring a full-fledged financial advisor.
As someone who has done a lot of investing on my own as well as utilize the help of a financial advisor from time to time, I'm certainly intrigued by the offerings of robo-advisors, but I'm not certainly not going to hand over all of my money to a bunch of computers. While it doesn't seem like the days are numbered for traditional financial advisors, at least not yet, my hunch is "buyer beware" and proceed with caution.
Robo-Advisors Rise To Meet The Need For Speed
I believe these new robo-advisors exist to fill an underserved niche. Financial advisory regulators such as the Securities and Exchange Commission (SEC) and the Financial Industry Regulatory Agency (FINRA) have been slow to keep up with online tools.
Forward-thinking advisor's may have a desire to service clients more quickly through online recommendations, but are handcuffed by their compliance department. In a world of "give it to me now," advisors are slow. Due to so many regulations, human advisors can take a long time getting all the necessary approvals before they can put anything in written form or online. We as consumers, however, are accustom to getting answers and information instantly. Who wants to be stuck waiting for two layers of an advisory firm to approve recommendations? Not me.
Fintech To The Rescue!
Gurus such as Suze Orman and Dave Ramsey warn people about unscrupulous human advisors who earn commissions from products they pitch. Which begs the question, who would you trust more with your money – a human or a computer?
Robo-advisors offer a new, better-sounding premise: visit a website, create an account, answer some suitability questions, and automatically get a series of recommendations. Bada-bing, bada-boom! No slimy sales pitch, long drawn out conversations, or stacks of forms to fill out. Here's a look at the best robo-advisors available today.
I like how robo-advisors are fast, straight to the point, unbiased, and can automatically manage your money on your behalf. They've also removed most of the emotion from investing along with the chance your advisor is having a bad day and forgets to call you, which has happened to me before. Plus they tend to be cheaper or even free in some cases.
The level of flexibility and control you have on your investments varies between platforms and service plans, but you can usually choose to accept or reject their automatic recommendations.
Things To Consider Before Going Robo
I'm not one to do things in extremes. I have a lower risk tolerance when it comes to investing, so I don't have any plans to hand over all of my money to robo-advisors. Nor do I have plans to entrust a financial advisor with all of my money either. However, I am digging a blended approach and want to utilize more financial tools to manage my money.
Here are a few things I suggest you should consider before handing over your own money to a robo-advisor:
Cash flow analysis. Ask yourself if you could you save more money? Do you know if you have financial leaks and where they reside? Some fintech companies offer complimentary online tools to help you budget, track debt, and plan cash flow. But asset management robots typically aren't plugged into these free platforms.
Tax planning. While robo-advisors can make portfolios fairly tax efficient, without knowing your complete income history and the details of every financial account you hold, they're unable to comprehensively design a successful tax strategy. Robo-advisors typically aren't programmed to handle complex planning tasks like creating a strategy to limit the effect of stock options, bonuses, or rental properties on your overall tax liability.
Estate planning. Most robo-advisors are focused on helping you manage your money now through retirement, and not so much on estate planning. Be careful not to mistake a robo-advisor as a financial planner for your estate. Don't miss out on opportunities to ensure your assets will be transferred to your family efficiently and with minimal tax impacts when you kick the bucket.
Risk management. What if you don't have enough assets or income to overcome a job loss due to a disability? And do you have sufficient insurance and emergency funds to protect yourself and your family? Getting help from a financial advisor may be beneficial to make sure you're protected from these types of risk.
Market collapses. We all want to think that we'll never have to live through another downturn like the 2008-2009 financial crisis. But nobody knows the future and we should be prepared for another one nonetheless. Do you think a robo-advisor be able to talk you off the ledge and protect you from bailing at the bottom if there's another market collapse?
Seems to me people could panic and second guess the ability of a robot-driven formula to make sound decisions at the right time. Perhaps we'll all start having nightmares of computers crazily buying and selling our portfolios into oblivion! Investors without a strong stomach or the firmer hand of a human could end up buying high and selling in a panic when the market goes low.
Should You Use A Robo-Advisor?
Robo-advisors are only as good as the people who built them. Humans are imperfect beings, so you can't really expect perfection from a robot either. The problem isn't when your plan is going well, it's when markets begin to crumble.
If you don't trust yourself not to panic, you may be better off having at least some or most of your money managed by a human. Otherwise you might pull the plug on your robot at the worst possible time and blow your investments up in the process. And you definitely wouldn't want that!
Robo-advisors are a great option for investing if you want to take advantage of automation, practically instantaneous and unbiased recommendations, lower fees than most human advisors, and less emotional decisions.
4 Robo-Advisor Recommendations
Want to explore some fancy features that robo-advisors have to offer? There are many to choose from and they each have their own unique offerings. Here are my favorite recommendations:
Wealthfront – Wealthfront is an excellent choice for those who want the lowest fees and can't be bothered with actively managing their money themselves once they've gone through the discovery process. In the long run, it is very hard to outperform any index, therefore, the key is to pay the lowest fees possible while being invested in the market. Wealthfront charges $0 in fees for the first $10,000, only 0.25% for any money over $10,000, and only have a $500 minimum to get started. Invest your idle money cheaply, instead of letting it lose purchasing power due to inflation.
Personal Capital – Also offering both free and paid services, my favorite features are their retirement fee analyzer and account aggregator that lets you see all of your banking, credit card, and investing accounts in one place for free. Personal Capital also offers a cash flow tracking tool, performance monitoring, account activity alerts, and an investment checkup tool all for free. Create your own account today and take advantage of their best financial software which is all free.
If you want a more personalized experience, they offer paid investment services with professional financial advisors for .89% of your assets managed which includes wealth management, trade costs, custody costs, and there are no trade commission fees. If you have over $1M, the fees are reduced in tiers.
Untemplaters, what do you think of robo-advisors? Do you think they are just as good as financial advisors, better, or worse? Who would you trust more with your money if you could only choose one – a human or a robot? 
Copyright 2015. Original content and photography authorized only to appear on Untemplater.com. Thank you for reading!

Updated for 2017 and beyond.