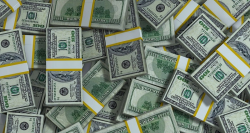 "I wanna be rich, lalala lalalala. Full of love, peace and happiness." When I was in fourth grade, R&B duo Calloway came out with their top 10 hit single, "I wanna be rich." Perhaps you remember it. It's quite a cheesy song, but it's upbeat and super catchy. I have no doubt I will be singing that song for the rest of the day because it'll be stuck in my head. I used to dance around my room as a kid and sing the lyrics to the song by heart. Oh, the 80s were so much fun lol. Singing the song won't make money drop out of the sky, but it can put you in a good mood and help you think about ways to make more money. Let's take a look at the top 10 traits of the rich based on stats from a survey of high net worth individuals by U.S. Trust. You might have more in common with the rich than you think!
Top 10 traits of the rich
1. Zeal
The majority of the rich weren't born into wealth. In fact, only 10 percent of the rich accumulated their wealth by inheritance. Meanwhile, 52 percent built their wealth from earned income. And 77 percent of those with $3 million or more in investable assets grew up in lower or middle-class households. So don't believe the stereotypes that people can only get rich if they're born to wealthy parents. Nearly 90 percent of the rich attribute hard work to their financial success. They are enthusiastic about their careers and actively pursue objectives with energy, hustle and passion. Hard work really does pay off.
2. Business oriented
Not everyone is cut out to be an entrepreneur, but you'll find that many rich people are quite business oriented. Having an entrepreneurial mindset is invaluable both in a corporate setting and when running your own business. That's why so many top firms love to hire MBAs who have attended a variety of business classes and learned how to think like CEOs, CFOs and CMOs.
3. Opportunistic
Have you ever missed out on opportunities because you were too slow to act or were simply just out of the loop? I've made that mistake many times. Rich folks are great at staying on the ball, however, ready to jump on an investment opportunity as soon as they see one. About one in five wealthy individuals keeps 25 percent of their assets in cash for this very reason. Close to 70 percent also use their credit strategically to build wealth.
4. Investment savvy
Understanding and investing in the stock market is so important to building wealth. You don't need to be a trading whiz by any means, but putting your money to work in the markets makes a big difference in fighting inflation and preserving capital over the long-term. The rich recognize the benefits of investing and about 86 percent of wealthy individuals claim buying and holding investments such as traditional stocks and bonds helped them achieve their biggest profits. If you want to invest your money but aren't sure where to begin, Betterment and Personal Capital are great resources to utilize. You can get customized investment advice at really low rates and also utilize many of their free financial tools to grow and manage your money.
5. Long-term focused
Keeping your eye on the long-term goes hand in hand with being investment savvy. Most rich folks have long-term investment goals and earn their money over time. Trying to make a quick buck usually doesn't work out that well and the wealthy are quite aware that being too short sided can be costly. Having a long-term focus also helps with financial discipline and improves success rates for large objectives like saving for retirement, comfortably affording higher education and purchasing real estate.
6. Tax-smart
It's impossible to understand every single rule in the tax code because it's literally volumes long. But, it is definitely possible to get tax-smart and learn how to take advantage of deductions and legal loopholes in the tax system. When making investment decisions, the rich pay close attention to how their actions are impacted by tax rules and act accordingly to minimize how much they owe. Actively saving on taxes provides more disposal income today that can be saved and invested for the future. The wealthy are also mindful at paying any taxes due on time to avoid unnecessary penalties, fees and interest, and often use professional accountants to ensure their returns are accurate and as tax-efficient as possible.
7. Asset diverse
An important way to protect your wealth over time is to diversify your assets as your net worth grows. The rich typically have very different asset distributions than the middle class. Not only do the wealthy have sizable investments in the stock market, about half of them also own tangible assets such as rental properties, land, farmland and timber. Some also collect fine art, antiques and jewelry. Private equity investing is also popular amongst the rich and many are heavily invested in their own businesses.
8. Value driven
We've all heard the stereotypes that rich people tend to be stuck up, shallow and lazy. While I might have believed that as a kid, I don't anymore as an adult. I've met several multi-millionaires through my career and personal networks and all of them are very value-driven. Studies show too that many rich people cite strong family values as a core part of their upbringing, regardless of their parents' wealth status. They also highly value the importance of academic achievement along with financial discipline, work participation, family harmony and loyalty.
9. Committed
Another interesting trait of the rich is their inclination towards a committed and harmonious family life. About 86 percent of the rich are married or in long-term relationships. Additionally, 97 percent of rich couples share the same values when it comes to spending and managing their wealth. Hollywood celebs certainly can paint a much different picture, but most "normal" rich families are dedicated and devoted to each other and function quite well together.
10. Charitable
Giving back and making a positive impact on the less fortunate are important values to many of today's richest individuals. About 66 percent of the rich are active in philanthropy and roughly 60 percent participate in school committees or serve on non-profit boards. Popular causes they actively support include environmental protection, sustainability, healthcare quality and access, disease prevention and treatments, education and veterans assistance.
Do you want to be rich?
So there you have it. The top 10 traits of the rich aren't earth shattering but some of them may have surprised you. And you might have many of these traits yourself already. There's a good chance that picking up even more of these traits can increase your potential for greater wealth in the future. Now, I'll leave you singing, "I wanna be rich, lalala lalalalaaaa…"
Untemplaters, which of the top 10 traits of the rich do you already have? Are there any on the list that surprised you? What else do you think helps people get rich?