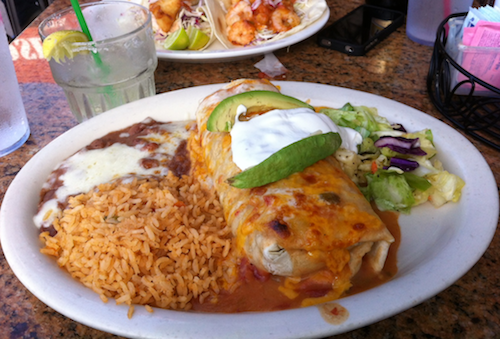 Can you survive on boiled eggs, toast, salads, and frozen dinners?  Well sadly, that's the extent of my cooking and I certainly can't!  OK, I exaggerate a little as I also know how to boil pasta and put some Prego on top, but beyond that, guests of Chef Sam aren't in for a fine dining treat!
After spending 3 hours trying to read, prep, and cook a gourmet meal for a friend that tasted slightly above edible I decided to no longer spend my life cooking.  Some of those cookbooks alone give me nightmares frankly as they are so big and unwieldy.  Someone has got to tell the editor to cut those 100 step recipes down because one wrong move and instead of Yakisoba you might get Chicken Cacciatore instead.
Conventional wisdom says that eating in saves you a lot of time and money.  Whoever comes up with conventional wisdom clearly must not work for a living or has been a contestant of Iron Chef before!  Let's go through several reasons why dining out not only saves you money, but increases the quality of your life.
The World Of Specialization
Henry Ford invented specialization when he first decided to build his Model T Ford.  Every factory worker had a specific role they did well to create the ultimate motor vehicle.  If one person or several people decided to build the entire car from scratch, it would take too long and probably fall apart after a short while.
Chefs are specialists in the cuisine you seek.  It is highly likely they know how to cook way better than you, especially if you go up the ratings scale.  Some of you are thinking to yourself that you can cook better than most chefs out there with your secret sauce spicy meatball recipe.  Trust me, you can't and your family members and guests are just being polite.  I remember being served a mishmash of barley shoots, carrots, meat, and potatoes all in one by my mother growing up.  It was bad, but I ate it, smiled and thanked her anyway.  By going out to eat, you get to enjoy the finest food possible.
Your Time Is Worth More Than You Think
Let's say you earn a healthy $80,000 a year, which equates to roughly $40 an hour if you work 40 hours a week.  That meal you spent two hours prepping and cooking doesn't just cost the price of the food items, the meal's cost also needs to include the $80 in forgone salary not working harder to get a raise and promotion!  You are probably rolling your eyes because you don't agree about including your after work time as work.  Well, if you don't believe your time is worth much after you come home from the office, stop by my house and rake my leaves please!  Ask an entrepreneur who works around the clock what their time is worth, and it could be probably worth hundreds of dollars an hour because they are banking their entire future on their project!
I can see you still rolling your eyes because you enjoy cooking so much and find it relaxing.  Well, that's nice if cooking really does relax you.  However, your family won't be relaxed when it comes time to eat it because going back to the World of Specialization, if you work full time, you likely aren't a good cook.  And even if you are, you aren't as good as professional cooks!
Unites Your Family And Saves your Marriage
After a long 10 hour day, the last thing you want to do is cook for yourself or any of your dependents.  In fact, if that is what's expected of you, you'll probably build up a resentment over time and blow it if someone criticizes your overcooked pees.  Let's say you have the luxury of not working.  It's not that great of a luxury because as a homemaker, you have the most important responsibility of keeping the house in order and the family fed and happy.  Your family's expectations of you goes up as a result and that's a lot of pressure!  A stay-at-home parent's value is easily worth over $30,000 a year if not much much more in big cities.
When you are preparing a meal for a family or friends, you don't have time to sit down, relax and communicate with your loved ones.  You're always worried about how the food tastes, whether the veggies are getting cold, and hoping that the meat is medium rare.  You are going back and forth from dining table to kitchen like a mad person while your friends and family are enjoying or pretending to enjoy your food.  In other words, you miss out on family time!  Your resentment grows some more until you finally tell them to cook their own dang food!
"Yes Chef!"
By going to a wonderful restaurant to eat with the family, you let professionals wait on you.  Their service frees up time for you to communicate with your loved ones more.  The food will come out much better than you could ever make, not only because the chef is a professional, but the chef also has his or her own cooks specializing to prepare your dish as well – souse chef, pastry chef, saucier, etc!  Yes, dining out saves you money.  Just don't go crazy with your money. Most importantly, dining out also saves your relationships, which are priceless!
Readers, how often do you dine out?  Have you ever tracked how much money you spend on food a month?  You might be surprised, as I was to see how much we spend.  
Photo: My Big Carne Asada San Diego Burrito for $10.99, 2011. SD.
Note: Sydney is back from her trip next week.  Thanks for letting me sub in.
Regards,
Sam