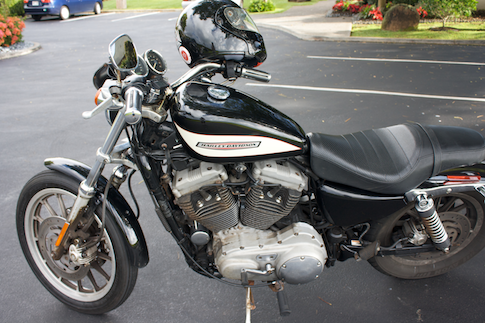 Living an untemplate lifestyle is about coming into your own, finding ways to life a lifestyle of your dreams, and not being afraid to be a bit unconventional. Perhaps for you that means finally selling your car, getting that motorcycle you've been longing for, and hitting the open road. By this point you likely already know what you want. You're just not sure how to get it.
You've studied the market. You've researched the pros and cons of each model. You've test driven all the main contenders. You've made a shortlist, and now there is a clear winner. You know which bike is the one for you.
However, first you have to consider how you'll pay for your bike.
Let's look at the options
• Personal loan – If you want to keep your bike for a long time, then it may be worth taking out a personal loan to pay for it. Of course, you will need to pay back the loan in regular installments over a set period of time. However, the repayments stay the same over the course of the agreement, so you're able to budget in advance. The advantage of this option is that you have immediate ownership of your bike.
• Hire purchase agreement – With this option, you pay an initial deposit and then make regular set payments each month. However, you only take ownership of the bike once you make your final payment.
• Personal Contract Purchase (PCP) – A PCP is a form of vehicle finance from a leasing company similar to a hire purchase agreement. You'll be able to pay a set amount for the term of the contract. This is usually between 24-48 months. This gives you the right to drive the bike, although the ownership is retained by the funding company.
At the end of the contract, you have three choices: return the bike and walk away; pay a previously agreed amount and own the bike; or part-exchange it for a new model. You don't have to decide to commit or walk away from the bike until the contract is over. This is the best option if you're likely to want the latest model or a new bike by the end of the agreement.
Other things to consider
There are a few other things that need to be taken into consideration when deciding how to pay for your bike.
Firstly, any loans you take out will be subject to credit checks by the finance company, so make sure your credit rating is okay before you apply.
Secondly, you should consider the age, condition and mileage of the bike. Some companies will only finance bikes that are new or less than 10 years old. They may also require the bike to be in good condition. If you're taking out a personal loan to pay for your bike, then mileage won't be an issue.
But if you're thinking of financing your bike purchase with a PCP or hire purchase agreement, then the annual mileage and general condition of the bike will be taken into consideration by the lending company. Your agreed monthly payments may be based on your proposed annual mileage.
You will also need to consider other expenses that your bike will incur, such as insurance. It's important to find the best insurance deal for your bike at a low rate.

Recommendation:
Check for lower insurance rates. Auto insurance is the second biggest expense to owning your car. Esurance is the leading online market place to help you find the most affordable and reliable auto insurance. They get you comparison quotes to make sure you're getting the best deal. You can easily purchase auto insurance straight from their website if you like what you see. It is very important that everyone gets at least basic liability car insurance. You can total your car and be fine. But if you total someone else's car and injure them, they can go after you for ALL your assets and wipe you out! Check for a better auto insurance quote via Esurance today.