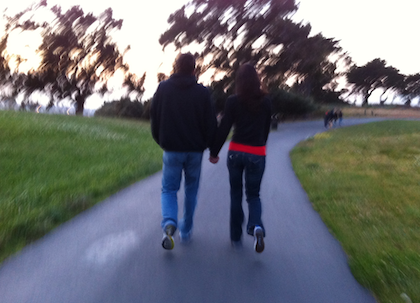 We've all heard the saying, "spend more, save more" and marketers are always trying to lure us into forking over more cash. There's never a short supply of deals like buy two get one half off, or 20% off $100 or more. Most of the time these type of sales just lead us to accumulate clutter and spend way more than should. But there are other ways to save and earn perks by thinking outside the box a bit. Today you'll learn how one couple went on a romantic dream vacation for 95% off by doing just that!
Brad Wilson, best-selling author of Do More, Spend Less: The New Secrets of Living the Good Life for Less, has been helping people save money and earn perks for years. He started his own website BradsDeals in 2001 as a broke college student to show his friends how to save money on their purchases. Currently it's the largest editorial-driven deal site with more than 8 million subscribers.
Today Brad is sharing with us how he and his wife took a first class romantic getaway by taking advantage of deals most of us wouldn't have even thought about. Brad is also giving away free copies of his new book to 10 lucky Untemplater subscribers, so be sure to check out how to enter the giveaway at the bottom of this post! Now, in Brad's own words:
Taking Full Advantage Of Special Promotions
In October 2009, my wife and I took a $40,000 dream vacation to New Zealand and Australia and paid less than $2,000 for the whole thing thanks to Hyatt. How was such a thing possible? It all started with a special promotion of the sort that Hyatt runs from time to time. The main idea was that for every two stays at a Hyatt property, you earned one free night at any Hyatt property.
Simply put, two stays at a Hyatt Place at $50 per night could earn you one free night at a Park Hyatt worth $1,000 per night. Following through on the math, if you wanted to spend ten days at a Park Hyatt, you could do it after 20 stays at a Hyatt Place, a $1,000 investment that came in at the same amount that just a single night would cost otherwise.
The free stays weren't the only perk you could get with this Hyatt promotion. Every two stays also earned 13,500 United Miles. Those same 20 stays therefore were also worth 270,000 United Miles. None of this was particularly difficult to figure out since it was all right there in the fine print.
Looking Past Barriers And Focusing On The Perks

Most people would see spending 14 days in a hotel as a barrier, and so this is the point at which the scheme breaks down for them. But what if I told you that you didn't actually need to travel to take advantage of this sort of deal?
I found a Hyatt Place near my home. There was a self check-in kiosk in the lobby. I would simply drive over, check myself in at the kiosk, and check in a second room for my wife. Then I would get back in my car and go home. After we each had logged 20 stays during which we never actually spent the night in a hotel room, we had racked up 20 free nights at any Hyatt property worldwide and 270,000 United Miles each.
It's also worth noting that we never paid full price for a Hyatt Place room. I bought $100 Hyatt gift certificates for $79.99 at Costco and paid with those. Additionally, I received a 2% rebate on the $79.99 for being a Costco Executive Member, plus another 2% rebate through my credit card.
A Dream Vacation For 95% Off

With our free Hyatt stays and United Miles, we booked our dream vacation. For 110,000 United Miles for each ticket, we flew first class to Auckland. From there we flew on to Sydney where we stayed ten nights in a large upgraded room at the Park Hyatt Sydney, which is situated on a pier in Sydney Harbour with views of the Opera House. The room, normally $1,100 per night, also included huge free breakfasts and free internet. Our Hyatt suite in Auckland ran $1,600 per night.
So how did we do? The hotel stays alone normally would have cost just over $15,000, and the flights would have been $12,500 per ticket, for a total trip value of $40,000. And all of this was available to us for $1,690, the cost of forty discounted stays at the cheapest Hyatt we could find. And yes, we still have miles and free nights leftover for a future trip.
This deal may have ended more than two years ago, but I tell this story as an example of the sort of thing that I see all the time. For example, right now you can get 50,000 British Airways Avios – enough for a round trip ticket to Europe – for signing up for the British Airways Visa and spend $1,000. You can easily meet the $1,000 minimum using an Amazon Payments hack I described on the BradsDeals blog, by paying your bills, or buying gas and grocery gift cards for yourself – money you would have spent anyway. These deals are out there if you know to look for them!
Untemplaters, have you ever tried to earn perks by thinking outside the box? What's the biggest discount you've scored on a vacation?

Untemplater Free Giveaway Instructions
Here's how to enter the giveaway for Brad's new book, Do More, Spend Less: The New Secrets of Living the Good Life for Less.  There will be 10 lucky winners. Complete as many steps as you can for extra chances to win. Deadline to enter is this Sunday February 17th at 9pm EST!
Subscribe to the Untemplater Newsletter (fill out the blue form below or at the top right of this page). Don't worry I won't flood your inbox. Already subscribed? Let me know as that counts! (one entry)
Share any Untemplater article on Twitter (one entry)
Share any Untemplater article on Facebook (one entry)
Required to enter: Leave a comment on this post, include the word "giveaway" and list any items you completed OR send an email with the same details to