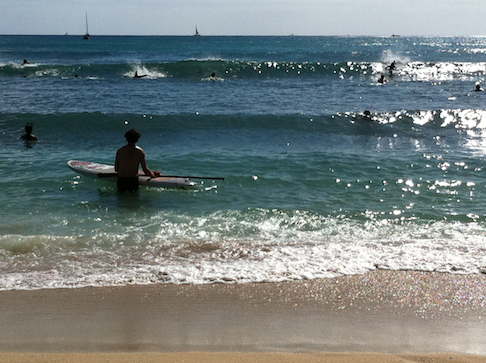 Surprise!  It's not Thailand!  How's one supposed to get friends and family to regularly visit you when you're all the way out there?  Meanwhile, each time you want to return back to your home country, it's going to cost you, or your business an arm and a leg.  For all sports fanatics except for soccer, you won't be able to watch any of the latest!  Finally, it's sad to say, but I think I'll miss America's health foods such as cheeseburgers, pizzas, and rib-eye steaks if I live abroad for too long.
I recently blew my tax refund on a 9 day, 9 night trip to Hawaii.  I've decided there's no better place in America, and potentially the world than Hawaii, and I've been everywhere.  Even my beloved San Francisco, is a distant second.  With night temperatures in the low 70s, and day time temperatures only reaching the mid 80s, Hawaii has the perfect temperature for outdoor enthusiasts.
For the past two years, I've been pretending on each vacation that I'm retired, and working a fully location independent lifestyle.  Perhaps I'll write about my other trips to Machu Piccu, Cancun, Hong Kong, Barcelona, and Malta.  But for now, I want to focus on where I think is the best place so far to balance work, life, and play.
Everything fun in Hawaii is free, or at most, dirt cheap!  Meanwhile, the Hawaiian time zone is actually ideal in dealing with everybody in the world.
CHEAP THINGS TO DO IN HAWAII – OUTDOOR LOVERS PARADISE

* Body Boarding / Surfing. Everyday, I went down to the beach at around 8am to go body boarding.  The cost to park is $1 an hour, and I'd spend $2 bucks.  There's nothing better than paddling out to were the surf breaks and riding a wave in.  The water is a warm 60 degrees, and there aren't many people around.  Wave after wave comes, and everything is free once you buy your equipment.
* Hiking. In Oahu, there are literally hundreds of hikes one can go.  The mountain ranges are robust, and all hikes are free.  Some of my favorites are through the rain forest, where after a couple miles of a moderate ascent, you get to a water fall where you can go swimming or jump off cliffs.  There's no cost to your hike except for the gas it takes you to get there.
* Tennis, Soccer, Football, Basketball, Softball. Hawaiian recreational parks are all free, and people play sports until 10pm when the lights are on and the temperature is cooler.  I played tennis twice, and shot some hoops for an hour another time.  The locals are friendly, and just want to have some fun.
* Golf. If you get the kama'aina rate (local rate), the public courses are generally around $20-25 dollars a round!  Not bad for 5 hours of trying to whack a small ball into a small hole.  I went golfing twice and shot a 82 and 86, after not playing for a year.  I still prefer the workout of tennis, but it's absolutely beautiful to just walk a course with the mountains in the back and the beach in the front.
WORKING IN HAWAII ALLOWS YOU TO COVER THE WORLD
The Mainland: Because Hawaii is 2-3 hours behind the West Coast, and 5-6 hours behind the East Coast (depending on daylight savings), you have to get up early to correspond with your mainland friends.  I'm a morning person by nature and basically transferred over my normal 6am wake up time in San Francisco to Hawaii.  6am in Hawaii is currently 9am in California, and 12noon in New York City, which leaves plenty of room for correspondence.
Europe: 6am in Hawaii is 5pm in London.  I know how Londoners love to hit the bars come 5:30pm, so it's important that I communicate with clients in the Europe and the UK first.  Ideally, I should try and regularly wake up at 5am Hawaii time / 4pm UK time, but I don't think my body will be happy to regularly wake up at that time.  One of the main points of living a location independent lifestyle is so that you wake up whenever your body wants you to wake up.  6am works for me, and I've been able to close several advertisement deals at that time with the UK clientele.  Alternatively, I can "train" my European colleagues to respond to me by 11pm island time = 10am their time as well, so I can sleep in til 7am.
Asia: The Asian clientele is not yet developed as the US and the UK.  That said, I'm excited to see their growth potential in the coming years as Internet penetration and search become more prevalent as countries become more developed.  China and India account for roughly 2.5 billion, or a third of the world's population after all!  At 2pm Hawaii time, it's 8am the next day in China, Hong Kong, and Singapore, and 9am in Japan, Korea, and Australia.  2pm is a perfect time to deal with Asian clients after some poki salmon, kalua pig, laulau, and watercress soup!
PLAY TIME AFTER A HARD 2-5 HOURS OF WORK
My ideal amount of work a day is 2-5 hours vs. my normal 10-11 hours of day job work + 2-3 hours of online work.  I don't want to be retired playing golf and surfing all day.  It would get old after a while.  Spice is the variety of life, and it's important to keep things fresh.
Based on the various clients around the world, the ideal time for work is from 6am to 8am to catch Europe and the mainland, and from 2pm to 3pm to catch Asia if there is any business.  Perhaps one day, I will hire a virtual assistant in Asia who can keep an eye out for me while I'm doing other things.  However, if I was based in Hawaii, I wouldn't have to.  Instead, the virtual assistant would probably be best suited out of Eastern Europe.
After 3pm Hawaii time, I'll probably take a nap for 30 minutes to an hour, and then either go play tennis from 4pm-5:30pm or body board, depending on what I did from 8am-2pm.  Sunset is around 7pm in Hawaii.  This is the time to either grab a drink on the deck overlooking the beach, or have dinner.  Sometime between 8pm-midnight, I'll spend another 1 hour corresponding through e-mail and writing a post for a total work time of potentially 2-5 hours.  Some days will be busier than others, but for the most part, if I can keep to the 2-5 hour a day work day, that's fine.
COSTS OF LIVING IN HAWAII
For the experienced person with 10+ years of savings, a spouse, and potentially a family:
Because so much is imported to Oahu, Hawaii ranks as one of the most expensive states to live in.  A decent 3 bedroom, 2 bathroom, 2,300 square foot house will probably run about $600,000-$700,000 in a good location.  Right now, regular gas is at $3.97 with WTI oil hovering at $100/barrel.  Meanwhile, depending how much you eat and where, your food bill could cost about $600-$1,000 a month.
You can always rent a nice 2 or 3 bedroom apartment for $2,000-$3,000 a month.  Again, it's all about to where exactly on the island you want to live, and how nice.  I believe life is too short to skimp out on good food and good living, hence I'm willing to pay up for quality and location.  The things I'm not willing to pay up for are fancy cars and fancy clothes.  All you need is shorts and t-shirt, and a beater to face the elements!
For someone experienced in their 30s and beyond, you should be able to live very comfortably on $4,000-$5,000 a month after taxes.  This equals around $60,000-$75,000 gross a year.
For the 20-something year old who is relatively unattached:
When I was 25, I was happy to live in a studio, and ecstatic to live in a 1 bedroom apartment in an average neighborhood.  If you are too, then you can easily get a studio-1bedroom for $800-$1,200/month in a good location.
For food, there are tons of cheap eats that will allow you to live off just $15/day if you eat out everyday.  That totals $450/month, which is probably at least a hundred bucks too much for you to spend.
Given you're young, the outdoor recreation must call to you.  Once you've got your sporting equipment, surf board, and hiking shoes, everything is practically free.  I would say that as a 20-something year old, you can live a phenomenal life for just $1,500-$1,700 a month after tax.  That's just $25,000 a year gross!  Not a tough hurdle, since I can make $18,000 a year working at McDonald's if it comes down to it.
SUMMARY OF GOALS
Given I'm in the veteran camp, my goal is to simply make $150,000 a year in net profits after tax (not gross profits) from my online business plus whatever other income I've created to live a comfortable life.  Passive income is a myth, except for the interest I generate from savings and CDs in my opinion.  Everything else requires effort.
I'm giving myself 5 years to consistently get to $150,000+ a year online.  It'll be a fun journey with a lot of ups and downs.  However, I'm so looking forward to enjoying the journey, that by the time I get there, I'm sure I'll have some new goals.
For those who are younger who want to work from a place such as Hawaii, making $25,000 a year online isn't insurmountable by any means.  At the Yakezie Network, where we've assembled some of the best personal finance blogs on the web, we have a goal of in one year, increasing our incremental monthly income by $1,000 just through the Network alone!  I firmly believe that if you stick to your business, build your brand, network, and produce consistent content over at least two years, you will be able to get there.  It's all about how much you want it!
Readers, have you ever thought about running a location independent business out of Hawaii?  If not, what other places in the world have you thought of, besides Thailand?  Do you believe making $25,000 a year is possible online after two years?  What are you doing to make it happen and blow that figure out of the water?
Regards,
Sam