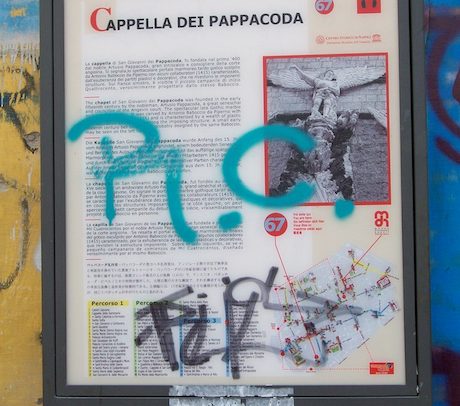 Every time I see graffiti it makes me cringe.  I have a hard time not getting angry just thinking about it.  Why are there so many punk kids and a**holes out there who have to disrespect other people's property, businesses, schools, landmarks, buses, and public places?  Augh I hate graffiti!
How One City Broke My Heart
Last year I visited Naples, Italy for the first time. Before I got there I knew the city didn't have a very good reputation, but I was still eager to explore, learn about its history, have a margarita pizza, and do some sightseeing.  I didn't have a tour guide or a very good map, and after I arrived I quickly found myself lost in a maze of streets full of high school and university students.
While I was wandering around watching the students make their way to and from class, I stumbled upon a beautiful church with a huge bell tower.  As I made my way to the side of the church, I was shocked to find all bright red graffiti along the entire length of the wall.  My heart sank.  How could the city and its people tolerate such a horrific and defacing act on a historical building, especially a church????
Sadly that church wasn't alone.  The further I wandered, the more graffiti I saw, and the sadder I became.  So many beautiful buildings had survived in the city for hundreds of years, yet people had the audacity to scar and smear them with graffiti.  Devastating…
We CAN Fight Back Together
There's graffiti everywhere though, not just in Naples, and we CAN fight back!  Let's protect our cities, homes, and businesses together!  Understanding how graffiti affects our communities and property, and knowing how to prevent and remove it when it happens takes power away from vandals and puts it back in our hands.
Causes of Graffiti
Rebelling, self-expression, seeking recognition and authority, gangs, anger, jealousy.
Effects of Graffiti
Rises in crime, decline in property values, residents feel less safe, drops in tourism, losses in business growth, rises in taxes and cleanup costs, less funds for public projects and renovations of schools/roads/parks, fewer riders on public transit, people and businesses leave and go elsewhere.
Who's Doing It
Approximately 85% are male with the majority ranging in age from 12 to 21.  About 10% of graffiti nationwide is estimated to be gang related, although it is higher in some cities.  About 50% of public high schools and middle schools are victimized each year.
The Legal Consequences
Graffiti is considered vandalism and is illegal.  Offenders can face fines, community service, driver's license suspension, arrest and incarceration.
The Ugly Numbers
San Francisco has over 18,000 complaints of graffiti a year and cleanup costs surpass $20 MILLION annually ($12.5 mil for Muni alone).  LA spends about $28 million, Chicago $6.5 million, Phoenix $6 million, Vegas $3 million, San Jose $2 million, and about $12 BILLION across all of the U.S. I want to vomit now, do you?
Prevention
Know the laws in your city and how/where to report graffiti
Install motion sensor lights, closed circuit cameras
Apply anti graffiti coating to exposed surfaces (ex. Graffiti Melt, ND Graffiti Shield)
Restrict access to roofs, install locked gates
Plant vines and trellises on exposed walls making the surfaces less appealing to taggers
Keep the front of your business & home clean
Organize a cleanup with your neighbors
Educate businesses and residents in your area
Remove graffiti within 24-48 hours for the highest chance of no recurrences
Removal
To report graffiti in progress, call 911.
Identify the type of surface affected, the substance used, and when it happened.
File a police report, include pictures if possible.
Inform the property / business owner right away.
Report graffiti to your local agency such as Dept of Public Works, 311.
Move fast. The longer graffiti stays on a surface, the harder it is to remove.
Apply graffiti or paint remover.  Make sure to use one specifically made for your surface type.
For smooth walls, use matching paint to cover the graffiti in a large square.  Don't leave an obvious outline of the tag.
Power washing and soda blasting often work too.
Razor blades can be carefully used to remove paint from glass.
For acid etching in glass, talk to a pro removal company who may be able to remove it without replacing the entire pane.
Contact a professional graffiti removal company if you're unsure how to fix your surface.
I hope after reading this post you believe that you CAN make a difference in your community.  I reported 9 cases of graffiti in my neighborhood this week, how about you?  It doesn't matter how big or small the tag is.
If there's a tag in a public area like on a mailbox, pole, trashcan, or sidewalk the city will remove the tag but they need our help to quickly file service requests so they know where to go.  Most agencies also let you file reports anonymously if you wish.
Let's all take action together and put an end to graffiti!
Untemplaters, have you ever been a victim of graffiti?  Are there problems in your area?

San Francisco Resources
If you see graffiti in progress, call 911
If you're on muni, text the 4 digit bus number to (415) 710-4455.  The number is above the driver's cab and along the inside/outside of the buses and trains.
Graffiti watch program 415-282-5326
Report graffiti by calling 311 or file a service request on their website
SF Dept of Public Works, sfdpw.org
References: SF Dept of Public Works, Graffitihurts.org, San Francisco Municipal Transportation Agency, U.S. Dept of Justice publication by Deborah L. Weisel