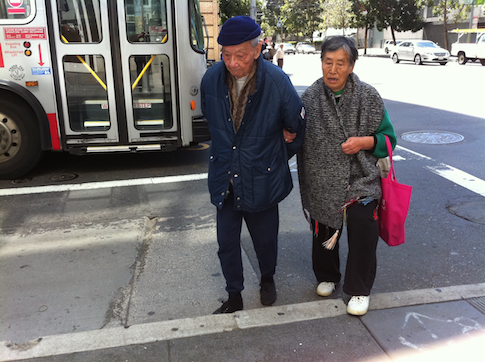 Since we were little tikes, our parents have been saying to us, "listen to your elders," "because I said so," "you'll understand when you're older," and "someday you'll realize that I'm right." You must remember how annoying it was to hear that, especially as a teenager. I know I sure do. I can't even count the number of times I used to roll my eyes when I heard those phrases. That and stomping off to my room to blast "Parents Just Don't Understand" by DJ Jazzy Jeff & The Fresh Prince. Or maybe I just dated myself and you're too young to remember that song.
Parents Just Don't Understand. Or Do They?
Anyway, of course now that I'm older it's so easy to see that so much, if not all, of what my parents used to say to me was true. They were looking out for my well being, even if it felt like they were trying to make me feel annoyed all the time.
Even if your mom and dad were not the best role models, hopefully there was someone in your life growing up that you admired, and who took the time to show you what was right and wrong. Although it can be frustrating, there are many advantages to listening to your parents.
They've known us longer than anyone. We certainly change a lot as we grow up, but they were there to see all the good and the bad. We don't have to agree with every single thing they tell us now that we're older, but hearing them out it always worth it. For the most part, all of the advice my parents have ever given me has been good advice. Can you say the same about your parents? Probably so.
I think my parents and I have a good understanding of each other. I didn't always grasp their advice in the past, but that's changing. I can relate to them a lot more now that I've gone through more and more life changes and situations that they've already experienced.
Jump Over Generation Gaps
The farther apart you are in age to someone, the harder it can be to connect with them. But it's not impossible. You just have to try harder to find similarities in your interests and in the experiences that you do share. Kindness and patience goes a lot way too. Some of the most intriguing conversations I've had are with people who are significantly older and totally different from myself.
Showing respect is so important in the workplace and in our personal relationships. It's part of human nature that we expect people younger than us to show us signs of respect. And the main reason is because of having more experience. Being older doesn't always mean more experience, but a lot of the times it does. Learning from others who have already gone through similar situations is a great way to save yourself time and a lot of headaches.
We learn a lot in life from our mistakes, but we can't afford to make a every mistake ourselves. I's so important that we learn from one another, especially people older than us who have more experiences and have seen more of life's ups and downs already. Certain circumstances may have changed, but a lot of basics and types of scenarios recur across many generations. Bridge generation gaps because you'd be surprised how helpful your elders can be.
Find A Healthy Balance Of Give And Take
One of my favorite Cosby show episodes was when Cliff was trying to explain how important it was for Theo to get his grades up so he could get into college. Meanwhile Theo was dreaming about skipping college and instead just getting a job as a bus driver or gas station attendant like "regular people." To give Theo a taste of reality, Cliff took some monopoly money that was lying around and quickly demonstrated how fast a paycheck from that type of job would disappear.
Theo tried one more time to win the argument later by saying perhaps he wasn't meant to be a successful doctor or lawyer like his parents. Theo felt that if he wanted to be like regular people, his dad should be willing to accept that because he's his son. Cliff's classic comeback was "Theo, that's the dumbest thing I've ever heard in my life! It's no wonder you get D's in everything." Cliff went on to say that because Theo is his son, he should be trying as hard as he can to get better grades and not to be afraid of doing more.
Why is this relevant? Because we need older role models like Dr. Huxtable to kick us in the pants when we want to give up, accept mediocrity, and run away from our problems. A lot of highly successful people didn't come from a lot of money or from perfect homes. They set goals for themselves, never gave up, learned from their role models, and respected the people that helped them along their way.
There are certainly plenty of things we can teach our elders as well. It shouldn't be just a one way street. For ex, Gen Y'ers can use their knowledge of technology to improve processes and help older generations get more efficient. It can take a lot of patience teaching and explaining things, so it's about finding a healthy balance of give and take. Just remember if you want to be respected by older people in business and in your personal life, you have to show them respect first.
Keep An Open Mind
Even if you don't agree with all of the advise elders may give you, at least realize that they are showing how much they care for you. People talk about their own experiences and offer advise because they ultimately want you to succeed.
Keep an open mind and share back. History is what shapes the future. We have to learn from the people who lived in the past to have a better tomorrow.
Untemplaters, what's some of the best advice you've received from your parents or another elder? Why do you think it's so hard for some people to respect their elders?

Copyright 2013. Original content and photography authorized only to appear on Untemplater.com. Thank you for reading!