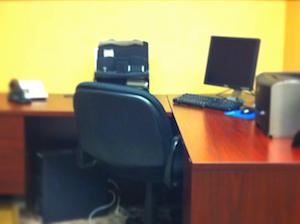 Everyone has their own share of pet peeves at work including me.  I'm not talking about things about the job itself that bug me, I'm talking about things people do out of bad habits or carelessness, many without even realizing what they're doing.  It's always a bit of a challenge sharing an office with other people, especially in close quarters, but it doesn't have to be!
We can all use a bit of reminding on things to avoid doing at work since it's easy to forget office etiquette as we get caught up with stress and other distractions.   Remember that you're sharing space with other people and make an effort to be a good office-mate!  Your coworkers will thank you.
Things to Avoid Doing At Work
Don't repeatedly hit the elevator door close button when you see a coworker a few feet away coming towards the door.  Especially if you've already made eye contact, don't be a jerk and watch the door close in their face!  They'll appreciate you letting them in and you'll also help save a bit of energy by riding in the same car.
On the same note don't scream, "Wait!" when you're 100 yards away from an elevator that's already full.  That's just annoying!  Even if the folks are nice enough to wait and let you on, the elevator is likely to express its annoyance at the over capacity weight limit by making one of those "RRRRRR" buzzer noises when you get on.   That's not a good way to start everyone's day.
Avoid being frequently late to work.  This is an obvious one, yet some people don't realize how important it is.  Please do your career a favor and get to work on time!
Please don't heat up leftover fish in the kitchen.  Even if it tastes amazing, fish just doesn't smell very good when it's reheated in the microwave.  Plus strong smells have a strong tendency to linger in office break rooms and kitchens so save those seafood leftovers for dinner at home.
Don't overlook the separate compost, recycling, and landfill bins!  Is it really that hard to remember what goes in the green, blue, and black bins?  I certainly don't think so, yet I see people put aluminum and plastic bags in the compost bin and food scraps in the recycling bin all the time.  If it's too hard for you to remember which is which, it's best to just use the black trash bin so you don't ruin an entire batch of compost or recycling or make someone fix your mistake.
Don't hover over people, especially at the sink, water cooler, and coffeepot.  A lot of offices only have one of each for everyone to share and things can get crowded in the mornings.  If you're waiting your turn, don't hover right next to someone, sigh loudly, or tap your foot impatiently.  Set your things down and come back after reading today's headlines, get your milk out of the fridge, or casually strike up a friendly conversation with the person as you wait for them to finish.
Never leave your dirty dishes in the sink or piled up on your desk.  Do whatever you want at home, but it's just plain rude to leave dirty dishes in the sink at work.  No one should have to clean up after you.  If you can't handle this simple responsibility, use paper cups and plates instead.  Clean off your desk before you leave each day and avoid having dirty coffee cups sitting around and cluttering up your workspace.  You'll come across as irresponsible if you have a dirty desk.
Don't rush around corners or run in the hallways.  I can't count the number of times I've almost been run over by someone rushing around a corner in the office.  Traffic goes both ways folks!  Slow down in the hallways and remember someone could be walking towards you with a hot coffee in their hands.  Plus rushing around the office makes you look like a frazzled mess.
Don't ignore the receptionist or expect them to clean up after you.  Make sure to introduce yourself to the receptionist at your office if you haven't already.  Say or wave hello in the morning because even a simple greeting goes a long way.  I've been friends with several women who worked as receptionists and believe me they know who you are and resent employees who totally ignore them or treat them with less respect than other coworkers.
Don't groom yourself at your desk.  Trimming your fingernails, combing your hair, and putting on makeup should be taken care of at home or at least kept to the office bathroom.  I worked with a guy who loved to cut his nails at his desk and it always grossed me out.
Avoid blasting your headphones or having a radio on if you work in a cube.  Some companies let their employees listen to music at work, which is cool if it isn't abused.  Keep in mind that you should be able to notice when the phone rings and be able to hear someone talking to you at all times.  If you work in a shared space, check that noise isn't leaking out of your headphones too because that can be really distracting for the people around you.
Untemplaters, what are some of the bad habits people have where you work?  Does your company have an office etiquette policy?  Do you have any other tips for things to avoid doing at work?