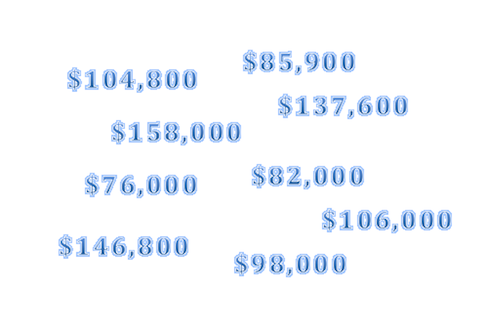 This article was originally going to be entitled a not so flattering, "No Wonder Why Startups Fail So Often." But after thinking things through, I've come to realize that my previous assumptions on "The Startup Riches Myth: Sell Your Company For Millions And Still Not Be A Millionaire" were too pessimistic. We are in a raging bull market after all!
Buffer is a 3.5 year old startup that created an app to allow you to schedule and put a delay on your tweets and other social media posts. You know how you can put a delay on your washing machine so that your clothes don't sit wet for too long when you come back? It's the same concept with Buffer. Joe Gascoigne, the CEO wrote a very insightful post highlighting every single one of his employees wages, including his own.
Total compensation is based on a base salary and a variable salary depending on revenue performance.
Here's a snapshot for your review: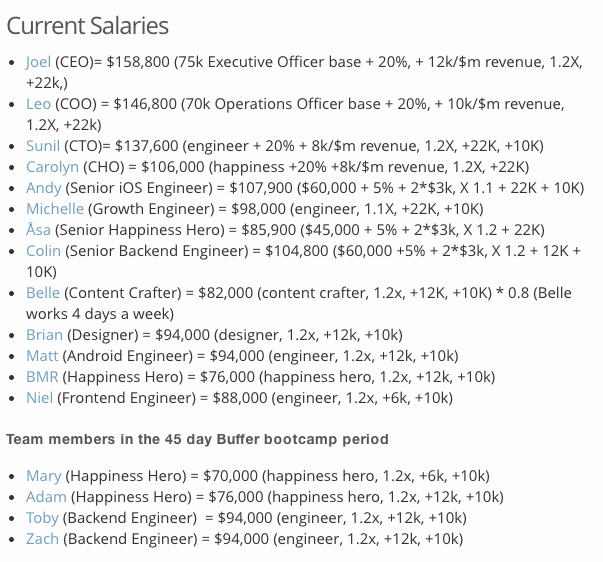 ATTRACTIVE SALARIES FOR A STARTUP
To put these salaries in context, all the ~$100,000 and up salaried employees are in their mid-to-late 20's having graduated college in 2008 or later. For all those who still doubt the article, "How To Make Six Figures At Almost Any Age," please realize that making $100,000 a year is now very commonplace in big cities such as San Francisco and NYC. No longer do you need to get a graduate degree from a good university to command six figures. Inflation and a rip roaring economy is creating fantastic wage growth.
As a Wall St. guy for my entire career, I always look at startups from an investor's point of view. You know how some think whenever they first meet someone whether they'd marry them? Well I always think when I first come across a company whether I'd invest in them.
My first instinct as an investor was, Wow! They sure have a hefty payroll for a company on a recently achieved $237,000 November run rate. If you add up the above 14 key employee figures ex-boot camp employees the payroll is roughly $1.38 million a year. I'm not sure how to add up the bootcamp employee pay, but let's just assume these four employees find full-time jobs and add another $350,00 to the payroll which now totals $1.73 million a year on a $2 million annual revenue year.
Joe mentioned in a comment response that based on their current run rate, they don't have to burn cash anymore. Makes sense given monthly salary cost is $144,000 compared to the $237,000 November revenue figure. Add on $50,000 a month for everything else and if Buffer can keep up a $200,000+ a month run rate, they should be all good.
But what about cash reserves? Buffer raised $450,000 from Angel investors in December 2011. They currently have around $311,000 in cash reserves, which is pretty thin for a ~$200,000 a month cost structure. If goodness forbid revenue halts, Buffer would be in the red in a matter of two months.
As a personal finance blogger and an investor, this frightens me because the world is always changing. Twitter could come out with their own Buffer-like app, Buffer's product could break, or a new competitor could come out of the blue. Twitter could also buy Buffer for big bucks too since Twitter is now worth $30 billion + dollars. In personal finance, it's good practice to have a minimum of 6-12 months of semi liquid reserves of cash and cash equivalents in case emergencies happen.
Buffer could always raise money if they started to seriously bleed cash, but that would lead to equity dilution and you never want to raise money when you are desperate for money. For these reasons, you'd think they'd be more conservative with their cash. Let's hope they are at least flexible to slash salaries in times of need.
THE GET RICH FINANCE STRATEGY
I've always come under the assumption that founders should pay themselves as little as possible due to their equity stake. Founders want to preserve cash at all costs and demonstrate to their investors and their employees that they are willing to sacrifice everything for the good of the company. Engineers, the creators, should be the ones who get paid the most. Salary and equity generally are inversely correlated in startup land.
This isn't the case at Buffer where the CEO and COO are making the most. Senior engineers are getting paid $200,000+ in the Bay Area. I'm a landlord and one senior engineer from Google who applied put down a $400,000 income after seven years at Google for example. Paying only $100,000 is a big outlier. If I was Buffer, I would be seriously worried about losing their engineers to competitors with their salaries now public. It doesn't take much for someone to feel envy for another in the work place. Even being underpaid by $5,000 will tend to eat away at someone until they slack off way more than their $5,000 of underpayment, or they irrationally move to another shop just to feel whole again. I'd either increase their wages or give them more equity ASAP.
Everybody else's salary looks pretty hefty for their work experience, and I'm pretty ecstatic for them. If they can pay the vast majority of their monthly revenue in salary and hold off long enough to get bought, then it's a win-win! It's like owning a 6% dividend yielding growth stock, an absolute rarity in today's environment. Everybody knows that being able to monetize equity is hit or miss in startup land. But accepting below market rate pay is what a lot of people do to be able to one day strike it rich.
With my own online business, I pay myself enough to not draw any attention from the IRS because I don't need much to survive due to my various passive income streams. Everything else, which is a majority of monthly revenue, gets saved as retained earnings. But I've always had a savings mentality all my life, whereas startup land is all about growth. If you can pay yourself all that cash and retain all your equity as Buffer is doing, then all you've got to do is wait for the big fish to pay you an obscene amount of money.
PROPS TO BUFFER
Joe's post on salary transparency is fascinating. I used to always wonder why don't startups simply keep on going since it costs practically nothing to renew their domain name, keep the lights on, and collect revenue. I'll never shut down my online business for these reasons. But now I completely understand why. Unlike me, not many people are willing to work for nothing!
A lot of people would be distraught if their company publicly announced the salaries of all employees. Imagine how much grief the engineers are getting from other engineers in the industry for getting paid less than the "Chief Happiness Officer" i.e. customer service head. But again, it's not a problem of the CHO getting paid so much, it's the issue of the engineers getting paid relatively so little.
The upside to complete transparency, especially using a detailed formula to determine wages, is that it eliminates discrimination. Women are instantly entitled to the exact same salaries as men, and there's no questions about how seniority and performance impact total compensation. Although it would have been more telling if the CEO didn't actually pay himself the most as that would create more confidence from investors and dedicated employees since the CEO would be putting others before himself.
Here's hoping Buffer gets bought out for mega millions! In a world where tech companies are still in the red every month for the sake of growth, Buffer is able to pay themselves nice salaries without drawing down reserves. That's impressive in my book. Let's just hope their November monthly revenue decline was just a blip, and that the good times continue for a long, long time!
Readers, if you were an investor in Buffer, would you be concerned about their cash burn rate? Do you think their salaries are high, low, or about right? What are the pitfalls for publicly publishing all your employees salaries? Do you think Buffer will be bought? Or will Twitter just come up with its own app?
Note: If any Buffer folks want to get lunch some time, I'm based in SF as well. I'm looking forward to reading the equity stakes article next Joe!
Regards,
Sam