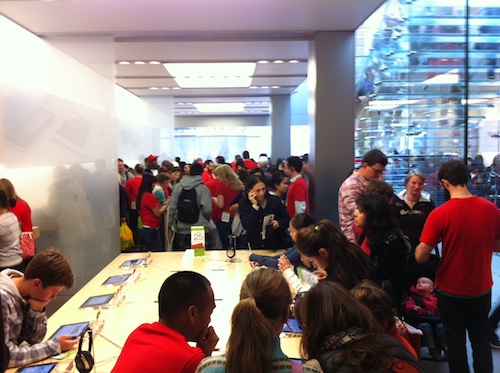 You may think the economy is sucking wind, but how can that be with record Black Friday sales of $11.4 billion, a healthy 6.6% increase over last year?  What's more impressive, the four-day weekend sales totaled $52.4 billion, up 16% from a year ago according to the National Retail Federation.  If unemployment and income are as bad as the media says, then people wouldn't be spending money at record levels.
As a patriotic American, I did my part in contributing $600 of the $11.4 billion.  I bought a pair of work shoes, socks, ties, and underwear for an average 35% off.  A 13″ MacBook Pro and a round-trip ticket to Hawaii were on my list, but I didn't make enough money online during the weekend to allow me to buy guilt-free.  I made it a pledge that the only money I would spend would be based on the money I earned during the same time period.
It's safe to say that many people are aware that not everything is hunky dory.  We've got the Euro Debt Crisis, a US States Budget Crisis, political gridlock in Congress, and a stubbornly high 9% unemployment rate that makes even the most optimistic of people doubt.  How do we reconcile such uncertainty with such consumption strength?
THEORIES AS TO WHY AMERICANS ARE SPENDING AT A RECORD PACE
* Savings fatigue.  After the 2008 downturn when plenty of Americans lost more than 30% of their retirement savings in one year, spending plummeted and savings rates surged to over 5% (still pathetic, but it was negative before).  It's been three years since the financial crisis, and 401k provider Fidelity has said that most retirement accounts are now above their 2007 highs.  People's balance sheets are stronger now and many are simply sick of living so frugally.
* Pent up demand.  A lot of purchases were delayed over the past 3 years – from cars to homes to big screen TVs you don't need.  When you're in a financial crunch, the last thing you're going to do is to replace perfectly fine, albeit old things.  Instead, you keep things a little longer and do without the latest bells and whistles.  But technology has changed drastically since three years ago.  Just look at the latest Android phones and iPhone 4S.
* It's harder to afford property.  Banks have become more stringent in terms of qualifying home buyers.  20-25% down is now standard vs. 0% down in the go-go days.  A lot of people have given up trying to own a home in San Francisco, where median prices are $650,000 and have resorted to renting.  If you no longer have $150,000 down for a $650,000 home, that doesn't mean you don't have 10% down, or $65,000 in cash lying around doing nothing.  It's a nice chunk of change, but it is not enough down to buy a median priced home.  Therefore, the temptation to spend that cash on frivolous things increases tremendously, especially if it's been growing for the past several years in anticipation for the down payment.
* People have much more money than you think.  I've subscribed to this theory for a long, long time.  A person walking down the street may look poor, but in reality, they might be worth several million dollars.  It's always better to watch what people do with their money than listen to what they say.  Why else would shopping malls and restaurants be so packed?  The median starting income for a 29 year old from UC Berkeley's Haas School of Business or Stanford's Graduate School of Business is around $130,000.  If they stick with their job for 5 more years, they'll likely earn more than $200,000 each if not much more, depending on their field.  If they decide to marry each other, well then they really have a lot of extra income!  It's not just MBA grads from good schools who make good money.  You also have dockworkers and firemen who work 35-40 hours a week making over six figures.  Dentists, lawyers, doctors, and big professional bloggers are also doing well.  You can then add on the kids who have Bank of Mom & Dad's helping them buy cars and properties for them.  The list is endless!
STAY POSITIVE MY FRIENDS
Whether you are rich or poor, things are looking up.  Did you see the videos of chaos at Wal-Mart with people going crazy over $1.99 waffle makers?  You might scoff at people who stand in line for hours to save a couple hundred bucks.  That's the wrong way to look at things.  Instead, realize these folks have money to spend and are patriots.  Shoppers are confidently spending their disposable income and saving our economy.
Readers, how much have you spent so far this holiday season?  Are you bullish about the economy given the record high Black Friday retail sales?  Why do you think the Black Friday retail sales numbers are so strong?
Are you bullish?
Photo: Union Square Apple Store on Black Friday, 11/25/11, Sam.
Update: Since this post, we've had record Cyber Monday sales, Chicago November PMI jump to 61, and US pending home sales for October up 10% MoM vs. expectations of only +2%.  Finally, the World Banks have brought out the BAZOOKA on Wed, 11/30/11 to prop the markets up!  Who wins?  Asset owners.  Who loses?  Savers.  Let's rock!
Regards,
Sam