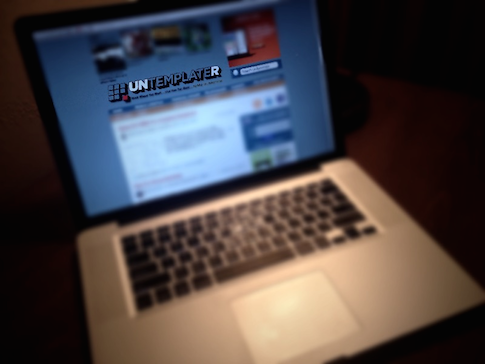 May was a wonderful month full of beautiful San Francisco weather and learning. My expenses picked up over previous months as I did a fair amount traveling, but I anticipated that. I also have more traveling coming throughout the rest of the summer both in-state and cross country so I've stayed disciplined with my spending. I'm excited about continuing to fill my days with new projects and activities. It's nice to stay busy when you're doing things you love to do!
Outside of work projects, I got very active in the kitchen during the month of May. I've never been much of a cook in the past, but I'm working on changing that. I really admire people who love to cook and are fantastic at it so I'm trying to improve my own skills in the kitchen. I joined a program called Blue Apron at the recommendation of a friend, which is a service that delivers recipe cards and pre-measured ingredients straight to your door (farm fresh proteins, produce, garnishes and all).
I chose Blue Apron's cheaper $60/week service plan which includes one delivery of fresh ingredients for three meals, which feeds two people. As someone who practically never cooks, chopping, prepping, and cooking three full meals a week was quite an accomplishment. Not having to run to the grocery store or worry about spoiling leftover produce in the fridge was refreshing. It's been a lot of fun so far and I like the flexibility of the program. It's easy to skip weeks when I'm working on the road and it's not so much to cook that I feel overwhelmed. 
2015 Goals Update
1) Goal: Grow More Traffic
April had an exciting surprise upswing in traffic which unfortunately didn't repeat in May. But lower traffic in May was somewhat expected, so I am not feeling discouraged. Looking at the month over month chart does motivate me though to do more outreach and hopefully get more mentions in the future that will help drive higher traffic. 
Overall I'm happy that Untemplater's May traffic was steady throughout the month and the year over year traffic remains up. 
May vs April:

Year over Year:

2) Goal: Land More Freelancing Gigs
One of my main freelancing gigs (that I was anxious about losing earlier in the year) is still going well so I am less fearful of getting canned in the short term. Phew! But I am still staying on my toes and making sure I deliver high quality work. I enjoy the writing I do for them more and more as each week passes. And I love that I am constantly learning new things. I definitely want to stay partnered with them for as long as possible. Overall I'm really happy with how all of my freelance projects are going and think my skills are improving and expanding in the process. Progress is happiness.
3) Goal: Build More Affiliate Income 
A big thank you to everyone who made a purchase or signed up for a service using one of my links. Affiliate income across my portfolio continues to do well and May was another solid month. I continue to research, test, and apply to new programs.
Income Report May 2015
Onwards to the May Income report…
Total Revenue Streams = $10,822
FREELANCING: $5,550
Editorial, writing, online marketing $4,650
Website management, other $900
Freelancing income rose a bit from April and is doing well. I'm working a comfortable number of hours and am working to get an even better work-life balance. I'm the type of person that can easily stay in front of a computer alone all day without going outside, so I'm trying to break that habit. I started taking some dance classes again after a two-year break and am making more plans with friends. It's good for my health to get out of the house more often and get back into hobbies again. I'm starting to feel more well-rounded, which should help my energy, spirit, and productivity.
INVESTMENTS: $455
Dividends & Interest income $305
Rental income $125
Prosper P2P investment income $25
I had a seasonal drop in rental income for May, which I expected so I'm not worried. I continue to stay active in my P2P Prosper account and now have a diversified mix of AA, A, B, C, and D loans in my portfolio. I had a few pending loans I wanted to invest in fall through, so I had to log in more than normal to find suitable replacements but it was easy.
ADVERTISING & AFFILIATE: $4,817
Affiliate Advertising: $4,080
Contextual Advertising (Adsense): $244
Profitable Online Store: $264
Bluehost: $180
Thesis Theme: $29
Direct Advertising: $0
Amazon Associates: $0
Miscellaneous: $0
May was a good month for advertising and affiliate. I didn't do any direct advertising during the month, but I have some deals I'm working on for June. I didn't get any hits with Amazon Associates but it has never been a strong performer for my portfolio. It's too bad the payouts are so low. I don't want to put too much time into it over other programs, but I'll keep trying here and there.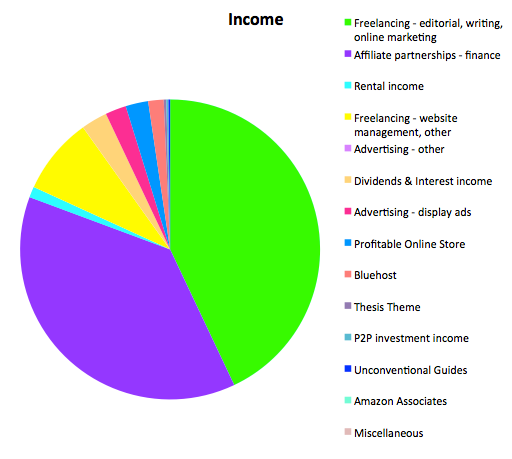 Expenses = $(6,761)
BUSINESS: $(2,190)
Travel – business: $(1,175)
Meals & Entertainment – business: $(430)
Supplies & misc: $(260)
Aweber, Marketing, Subscriptions, Fees: $(245)
Quickbooks: $(50)
Hosting, web related: $(30)
Outsourcing: $(0)
Business expenses came in higher than last month due to travel. I purchased a Chromebook in April that I used on my May trips and it was just what I needed. Most of the time I work on a 15″ MacbookPro, which I love, but it does feel like a brick. Being able to travel with a much smaller and lighter Chromebook was a welcome relief to my prior days of dragging my beast of a laptop around.
PERSONAL: $(4,571)
Living expenses: $(3,310)
Travel – personal: $(772)
Meals & Entertainment – personal: $(489)
Although I don't really like to travel during peak times like summer, it's manageable. I have about five to six trips coming up between now and September now, so I'll be running around for a while.
PROFITS: $10,822 (Income) – $6,761 (Expenses) =

$4,061
May Takeaways
May was down compared to both April and March but I'm still happy with the results. There's definitely a seasonal drop in traffic and business that tends to happen each year from May until mid-September. So it's almost a matter of either kicking back more than normal since a lot of people are away during the slowdown, or working harder instead to make up for the losses. I'm trying to do a bit of both.
Although there are a ton of things I would love to do every single day, I know it's not realistic for me to get through everything on my to-do list. But if I do the best I can each day, I'm happy.
Recommendations
Personal Finance – If you're interested in tracking your own finances, sign up for a free account with Personal Capital. Link your credit cards, checking accounts, mortgage, student loan debt, savings accounts, investment accounts, etc. all in one place. Their reports and analytical tools really make it easy to monitor your financial health and helps you set goals. I've had an account with them for several years and love how easy and intuitive the platform is. Bloggers – want to become an affiliate? Sign up for the Personal Capital affiliate program here.
Become A Freelancer – Motivated to become a freelancer? The possibilities are endless! If you're a creative, learn how to sell your products and create your own online store. Like to write as much as I do? Find out how to get published, earn money as a writer, and have fun working on the road. Whatever your interests are, focus on building up your skills and developing your own unique niche.
And if you're burnt out of your day job, believe in yourself that you have options and can turn your career around. I didn't believe I could escape for the longest time but fortunately I wised up and negotiated a severance package and got paid to leave a job I grew to hate. Learn how you too can get paid to leave your job like I did and open your eyes to new opportunities.
Untemplaters, how did you perform in May? Take any fun trips or accomplish any exciting goals? Where are you headed this summer?