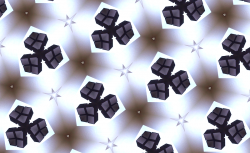 It's mid September and my head is spinning. For the last three plus weeks I've been traveling around California and up and down the east coast. Travel is fun, refreshing and rewarding, but I'm looking forward to going home to SF soon. I could use a break from airports and living out of a backpack for a couple months.
With less than six months left to the year, I want to step up on both my personal and career goals. I'm at about a 50% success rate on the goals I set in January, separate from the goals in my income reports, which is good but not great. I've averaged a 70% success rate on my new years resolutions over the last several years, and I want to maintain or beat that rate. I've got more work to do in the next 3.5 months.
New Here? Welcome! Be sure to check out my about page and read how I got paid to break free from a grueling desk job earlier this year. I publish monthly income reports to track my progress and push myself forward.
If you're looking for an easy way to manage your own income and expenses for free, check out Personal Capital. You can securely link your credit cards, bank accounts, mortgage, student loan debt, investment accounts, etc. all in one place. Their free tools actually make it fun to monitor your financial progress and help you reach your goals faster. Bloggers – want to become an affiliate? – sign up for the Personal Capital affiliate program here.
2015 Goals Update
I have three main career goals for 2015. In each of my income reports, I provide a quick update on my progress:
1) Goal: Grow More Traffic
Untemplater's traffic started to come back in August, which is a welcome relief. Most people are done with vacationing for the next few months as students are back in school. That means, more time for users to peruse the internet at home and on their commutes to and from work.
I've been reading more and more articles about the ever increasing ratio of mobile versus desktop traffic. It's bad for ad revenue but any traffic is still good traffic. I'm glad that Untemplater is now a fully responsive site thanks to Genesis, making it easier to navigate around the site and display content. I was only using a mobile plugin in the past, which was a decent workaround to avoid Mobilegeddon. But a responsive theme is definitely superior and allows ads to appear.
August vs July:

Year over Year:

2) Goal: Land More Freelancing Gigs
Thanks to encouragement and the sage advice from my best friend, I started teaching music lessons again in August. The last time I gave private lessons was embarassingly too many years ago than I care to admit. Why did I stop doing something that can earn a decent supplemental income? I wasn't as money hungry in the past, I got lazy, lost interest, didn't continually look for new students, and was also much more stressed because of my old day job.
So far I'm on track to earn an extra $230 a month with my current two students. It's been really refreshing to have an interactive way to earn extra money that gets me off my computer. I also did some dog sitting in August for $140.
In other positive news, I recently interviewed for a new freelancing job and hit it off with the client. I'm waiting to receive an SOW (statement of work) and if all goes well, I should start in mid-October. That could potentially bring in an extra $1,400 – $1,700 a month.
3) Goal: Build More Affiliate Income 
With Untemplater's site redesign, I ran into a bunch of hiccups with my affiliate links. Fortunately things are working again. I'm also in the process of slowly switching plugins since my old plugin is no longer being actively upgraded.
A big thank you to everyone who made a purchase or signed up for a service using one of my links.
Income Report August 2015
Onwards to the August Income report…
Total Revenue Streams = $8,820
FREELANCING: $4,300
Editorial, writing, online marketing $4,000
Teaching music, dog sitting $300
INVESTMENTS: $759
Rental income $400
Dividends & Interest income $340
Prosper P2P investment income $19
Even though things like dog sitting and teaching music aren't super lucrative, every bit counts and it's fun to mix things up and diversify income streams.
ADVERTISING & AFFILIATE: $3,761
Affiliate Advertising: $3,465
Contextual Advertising (Adsense): $185
Bluehost: $90
Amazon Associates: $1
Genesis $0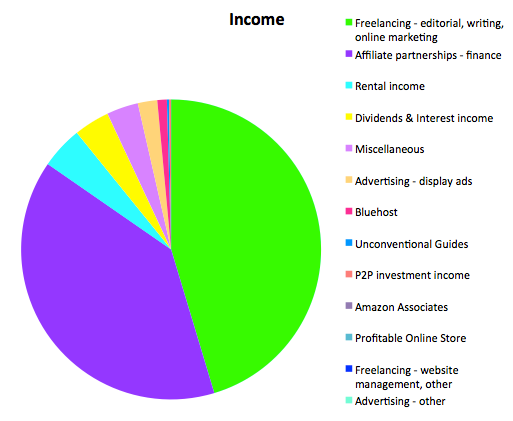 Expenses = $(4,768)
BUSINESS: $(848)
Aweber, Marketing, Subscriptions, Fees: $(295)
Meals & Entertainment – business: $(250)
Travel – business: $(120)
Quickbooks: $(50)
Hosting, web related: $(30)
Supplies & misc: $(13)
Outsourcing: $(0)
PERSONAL: $(3,920)
Living expenses: $(3,290)
Travel – personal: $(380)
Meals & Entertainment – personal: $(340)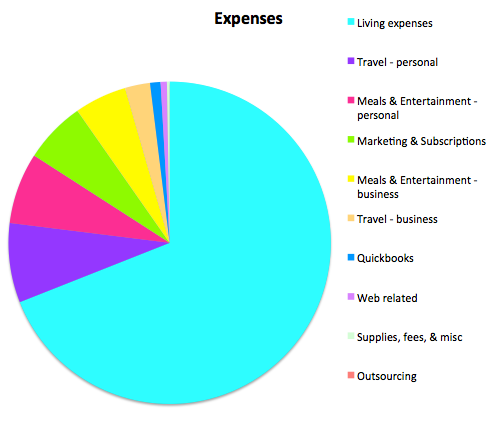 PROFITS: $8,820 (Income) – $4,768 (Expenses) =

$4,052
August Takeaways
August profits were just slightly down from July by $78. I feel okay about that since it was a productive month and income was up. Since I don't plan to do much traveling for the next several months, I'm going to try and keep my expenses lower. September will have more travel expenses from the trips I'm shortly ending, so I hope income will continue to rise to help make up for that.
I'm always a bit sad to see summer coming to a close, mostly because the days start to get shorter. But living in San Francisco, we pretty much have one season year round, so all is good. Time will tell if the weather predictions of a stronger El Nino will end the drought this "winter." As dry as California has been, I have my doubts.
Recommendations
Take a free mini course on how to create your own online store – If you've been thinking about starting an online business, you should consider starting an online store. Check out Steve Chou's free mini course on how to get started creating a profitable online store. If you sign up for the full course later you'll get access to over 70 hours of step-by-step videos instruction that guide you through the entire process.
Try your hand at freelancing – Motivated to become a freelancer full-time or just want to make some extra cash on the side? The possibilities are endless! If you're a creative person, it can be quite profitable to learn how to sell your products. Like to write as much as I do? Find out how to get published, earn money as a writer, and have flexibility and fun working on the road. You can also work on building your brand by creating your own website the easy way with Bluehost for super cheap. Whatever your interests are, focus on building your skills and developing your own unique niche.
Get help managing your money – Wealthfront is an excellent choice for those who want the lowest fees and can't be bothered with actively managing their money themselves once they've gone through the discovery process. In the long run, it is very hard to outperform any index, therefore, the key is to pay the lowest fees possible while being invested in the market. Wealthfront charges $0 in fees for the first $10,000, only 0.25% for any money over $10,000, and only have a $500 minimum to get started. Invest your idle money cheaply, instead of letting it lose purchasing power due to inflation.
Break free! If you're burnt out of your day job, believe that you have options and can turn your career around. I didn't believe I could escape for the longest time, but fortunately I wised up before I destroyed my relationships with family and my health. I never would have thought I could negotiate a severance package and get paid to leave a job I grew to hate, but I did! Learn how you too can get paid to leave your job like I did and open your eyes to new opportunities.
Untemplaters, what were you up to in August? How was the end of your summer? Do you have any new income goals you're working on?