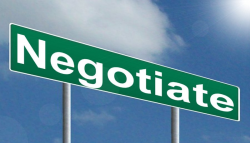 Job security just isn't what it used to be. You could arrive at work tomorrow thinking it's just another Monday and get blindsided when your boss pulls you aside and tells you that you've been laid off. Living in San Francisco where there are more startups that I can count, this is especially true. Not only that, it's pretty common nowadays for people to voluntarily move from one job to another every year or two. Whether you are thinking of leaving your current job voluntarily or suspect you could get laid off, it is very helpful to be aware of your rights as an employee and be familiar with the average severance package.
Are you eligible for a severance package?
Your industry, company size, department, years of experience, job performance and the economy are just a few key factors that can impact how much severance you could receive. What's important to note is that employers are under no legal obligation to offer a severance package. As an "at will" employee, you can literally be sent home packing one day without any recourse. If your company is shutting its doors – like many SF/Silicon Valley startups do – it is also highly unlikely you will receive a severance package because whatever money that is left on the balance sheet is returned to creditors.
Keep in mind you are less likely to receive a severance package if you work for a smaller, newer, private company versus a larger, older, publicly traded one if your role gets eliminated. Also, since severance benefits are not mandatory, there is no one-size-fits-all severance package for laid off employees.
How much severance could you get?
However, a commonly accepted formula for coming up with the average severance package is:
Number of Severance Weeks * Number of Years Worked + Minimum State Mandated Base = Severance Package.  The number of severance weeks offered ranges from 1-4 weeks and averages closer to 1-3 weeks per year.
Another formula that I've seen companies use is 0.5 x N with N representing the number of years worked. The result is simply the number of months in severance one would receive. For example, five years at a job = 2.5 months of severance.
That said, here is some feedback from people I've conversed with:
* 33-year-old retail worker quit her job after 3 months of maternity leave and received no severance.
* 28-year-old employee at an internet start-up worked for 2 years and got 2 weeks pay.
* 35-year-old client services manager with 9 years experience received 2 months.
* 32-year-old employee at a high-tech/internet firm worked for 1 year and got 4 months.
* 30-year-old employee in finance received 2 months base + 16 weeks after working for 8 years.
* 38-year-old employee at consumer goods company worked for 15 years and got 6 months.
* 48-year-old employee in manufacturing worked for 20 years and got 2 months base + 26 weeks.
* 34-year-old employee at consulting firm worked for 11 years and got 3 months base + 33 weeks.
* 32-year-old pregnant investor relations manager with 10 years experience received 36 weeks pay.
Negotiate the terms of your severance package
Remember that everything has value, not just the salary you collect from your job. Never overlook your ability to negotiate the terms of your severance package. Just because your employer says you will get X doesn't mean you can't go back to them and ask for X+Y+Z. You may not get everything you ask for, but there's no harm in trying especially since there can be such a wide range of severance packages. Anytime there's a range of terms, there's an opportunity to negotiate. Plus, the worst they could do is say "no."
A severance package doesn't have to be limited to a certain number of paid weeks. It can also include getting paid health care and life insurance benefits for a set number of weeks or months, company profit sharing, deferred compensation and retirement matching. For example, you can coordinate a later separation date due to upcoming stock or benefits you will be receiving by offering to help finish a project or to train a replacement. You can also ask the company to pay for your COBRA healthcare insurance for a longer period of time after you are no longer working. There are generally outplacement services to help you find a new job as well. Remember to be appreciative when negotiating, but do make an effort to negotiate. Be prepared to be patient as well. Negotiating terms may take a while, but it's worth it if you can get a better package.
The reason why many companies offer severance packages, even though they aren't required is because they want to create "Goodwill" and protect their reputation. For example, imagine if a company like Apple laid off a 30-year veteran and gave him zero severance. That type of negativity would go viral in a nanosecond! Even if the 30-year veteran got 120 weeks of severance that was valued at $500,000, that's chump change to a company like Apple with billions in cash. Just look at what that Greg Smith guy from Goldman Sachs did when he wrote his scathing goodbye letter in the NY Times. His letter alone probably cost Goldman hundreds of millions of dollars in market value! Companies are motivated to avoid any type of bad press.
Once the terms of your severance package are worked out, HR may ask you to sign a voluntary separation agreement. As with most things HR, there will be a lot of legal language in this document that lays out conditions that are ultimately intended to protect the company such as agree not to sue, go to a competitor for X amount of days, say bad things, etc. Burning bridges is never a good idea, so agreeing to those types of terms usually isn't a big deal unless your employment rights after you separate from your company are severely restricted.
Start a new chapter
If you are unexpectedly laid off, don't panic. Apply for unemployment benefits right away and tap into as many resources as you can to look for a new job. Some people I've talked to who were laid off were too proud to file for unemployment – don't be foolish like them! If you've been paying unemployment taxes and are eligible to receive benefits why wouldn't you? Don't leave money on the table! I know it may seem like a daunting task at first, but it's not as complicated as you may think. I've done it myself and you can too.
Remember, half the battle in good negotiating is to come prepared with as much information as possible. It's important to know where the realistic upper and lower anchors are so that you can maximize what you deserve! Aim high and try to get better than the average severance package.
No matter what happens, do your best to embrace change and keep an open mind. Start a new chapter in your life and don't dwell on the past. Bitterness will only make you feel miserable. Happiness is a choice!
Learn more about how to negotiate a severance package
Want to learn more about how to negotiate a great severance for yourself? I strongly suggest you read How to Engineer Your Layoff by Sam Dogen aka the Financial Samurai. I read his book and negotiated a great severance package of my own from my day job of 10 years! This book can teach you a lot about your rights and arm you with a lot of knowledge about the layoff process and negotiations.
This book has helped thousands of other readers as well to profitably take control of their situations. Just take a look at this reader's testimonial!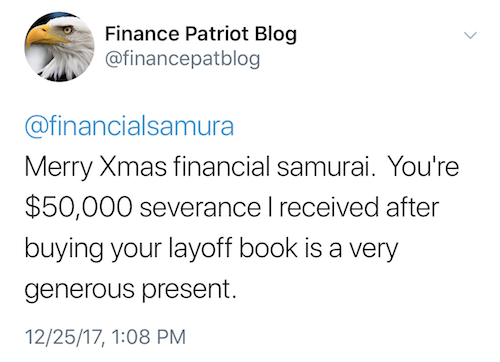 Don't leave money and great benefits on the table. Gain confidence reading helpful case studies and learning his framework on how to negotiate your own severance package. Get more details and download the ebook instantly here.
Untemplaters, have you ever been laid off? Did you receive a severance package? What were some of the terms and benefits that you received? What is the average severance package in your line of work?