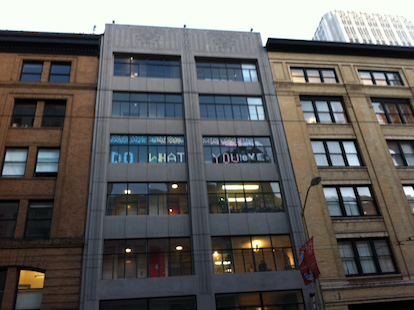 Have you ever wondered how to switch careers and do something you truly love? Casey Berman of Leave Law Behind knows first hand what it's like to feel stuck in an unfulfilling office job and wonder how to switch careers.  Even after graduating from Hastings law school and launching on a successful in-house counsel career path at a software firm, he started itching to do something different.  And that he did!
Since leaving that position, Casey started his own high fashion men's clothing line (which he later sold), founded Kid Friendly SF with his wife Lillian, and currently works with Schireson Associates, a technology focused market research and consulting firm, and with his father at their boutique Investment Banking firm, Berman Capital.  Who says you have to do just one thing in life!
I'll now continue my interview with Casey (part 1 is here: Interview with Casey Berman) as he shares with us his valuable advice on how to switch careers and some insights on his current projects.
Sydney: What's your advice on how to switch careers? I know that when planning a first career, it is a good idea to obtain the necessary education. Of course, you might have to spend time as an intern before you can begin in some industries, which is not always a possibility for those who are switching careers later on in life. I also know that building a personal brand is an important step to take when looking for a career, as is researching what certain jobs would entail prior to your interview. How does this planning differ when changing careers?
Casey: Here's how I would break it down:
Ask yourself why.  Why are you even thinking about changes careers or wanting a fresh start.  I caution against BS'ing ourselves that we "need a change".  Are you really interested in a change or just in a funk?  Do you really need to change careers . . . or should you just find a new position in your current company or in your current field that is more in alignment with your skills and interests?  Think critically.
Cut your losses.  If you really want to change or move on, then do it.  Don't lament the money you spent on your graduate degree you may now not directly use again.  Don't worry about the student loans or the sweat and tears you put into something you are now leaving.  If you want to leave, and have thought critically about it, then do it.
Network.  Do informational interviews.  Meet with people.  Get coffees.  Applying online can work, but I would encourage people to really delve into their network and extended contacts and see what information they can learn, what warm leads they can create and what solid (interesting) opportunities they can originate.
Plan.  Take out the spreadsheet and really see what you can and cannot afford to do.  Besides health issues, there is no anxiety more difficult, gut wrenching or harder to take than that related to money . . . in particular your savings dwindling and possibly running out.  Avoid planning and forecasting your cash flow and reserves in your head or in pencil on a back of an envelope.  Take this seriously, real seriously.
Continue to motivate yourself.  It can be lonely switching careers.  Find ways to inspire and motivate yourself.  Find bloggers like Untemplater or the Minimalists or Scott Dinsmore that have created these like minded communities to provide support.  (I also recommend the Notes from the Universe for a daily pick me up).  Find ways to be appreciative and simplify your life.  Begin to realize it's okay to change who you are and all that you used to know and like need not be carried with you into the future.   And be courageous.  I like to say I live by the mantra: your life expands or contracts in relation to the amount of courage you have.
Sydney: You and your wife recently launched KidFriendlySF. What is that like?  Do you think SF a difficult, medium, or easy city to raise a family?
Casey: Kid Friendly SF is a great site!  I've very proud of it.  We love working on it and finding new kid friendly places and activities in the City.  It may sound clichéd, but it really has become a passion for the two of us.
My wife Lillian started Kid Friendly SF (http://kidfriendlysf.com/) a few years ago when our daughter was 2 (she is now 5 and our son is 2) and Lil has grown it into a very well respected and often cited source.  We have a niche focus – to blog and tweet about low- to no- cost kid friendly locations, places and activities in town.  San Francisco spots that cater to your tots, is what we say!  So you want to find a place to hike and get some nature, but don't want to drive to Marin or the East Bay?  Check out Glen Park Canyon or Mt Davidson.  Want to grab a coffee, pick up some dry cleaning and catch your breath with kid in tow?  Head over to Sacramento Street at Presidio, check out Eunice's Café and then let your little one let off some steam at Presidio Heights or Julius Kahn Playgrounds.  Lil's goal is to continue to grow our user base by providing really useful content for our users.
I am born and raised here, and I think San Francisco is a fantastic place to raise a family.  Many of my friends I grew up with still live here and raise a family.  I think the city experience builds a lot of confidence and self-sufficiency in kids.
But let's get to the point – it is real expensive, especially schooling.  The public elementary schools have gotten better, but the middle schools have a ways to go.  And if you want to go to private school, plan on spending $650,000 or so (after tax) to put two kids K-8 (we haven't even mentioned saving for private high school or college).  That's why many leave the City, and I understand.  If you want to live in this town and have children and feel like you may be leaning to private education, you have to save up and plan accordingly. There really is no way around it.  It's very hard.
Sydney: How many hours do you work a week on average? And how does that compare to when you were a lawyer?
Casey: During a normal week, I am either in front of my computer, on the phone or in meetings with clients.  If you add all of this up, it's a good 40-60 hours a week, depending on the urgency or work load.  I have a long way to go to be a better manager of my time, but I make a point to prioritize my tasks for each particular day.  My universal to-do list goes on for pages, so I often pluck 2-5 things that are most important on that day to get done.  Keeps me focused and on track and staves off being overwhelmed.
My work now does not involve more hours than when I worked as a lawyer.  As an in-house counsel and VP Operations, I was managing a team 8am-6pm.  But the work I do now is on a more flexible schedule.  I can truly work from anywhere.  My home.  My office in North Beach.  A plane.  A coffee shop.  The parking lot of my kids' nursery school.
And I get to create more.  While my time is limited and every day can seem like a mad rush to produce, I am more proactive.  It's fun most of the time.
Refinance Your Student Loan With SoFi
SoFi is a fantastic social lending company that provides rates as low as 2.6% variable with auto pay and 3.4% fixed with auto pay. The reason why they can offer lower rates than the rest is because they analyze you based on merit, quality of employment, and education besides just a credit score and financials. There is zero origination and prepayment fees. Offer terms are from 5, 10, 15, 20 years in both fixed and variable. Both private and public student loans can be refinanced.
Besides low rates, one of their best features is their unemployment benefits. If you lose your job while repaying your loans, you don't have to pay your loan for up to 12 months while you look for a new job! Interest will still accrue, but having this cash flow break is a huge benefit. They also provide job assistance guidance as well. Over 500,000 users have refinanced with SoFi for an average $15,767 in lifetime savings.
Learn more and refinance or apply for a new student loan here.
Updated for 2018 and beyond