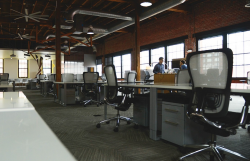 When I was getting ready to graduate from college, I had absolutely no intentions of becoming a self-employed entrepreneur someday. The thought never even crossed my mind. My number one goal was to find a reliable full-time job that would enable me to pay rent and buy food so I wouldn't starve to death.
Although I love being self-employed now, I wouldn't have been able to get to where I am today without all the years I spent working in the corporate world. There were hard times sure, but there were also great times too and a lot of benefits. Entrepreneurship can be really rewarding, but it's hard and certainly not for everyone.
In the spirit of labor day, here are some suggestions on how to make the most of a 9 to 5 job.
1. Appreciate a steady paycheck. Getting a paycheck every two weeks is a perk that's easy to underappreciate until it's gone. If you've ever been laid off or unemployed, I'm sure that experience changed your perspective.
2. Get to know your boss. I feel pretty fortunate that I've never had a boss who was a jerk. They each had different personalities and their own quirks, but they were all supportive mentors. It's worth making an effort to get to know your boss. It'll make your time at the company a lot easier and it's a great feeling knowing your manager is in your corner.
3. Bond with your colleagues. I wasn't much of a happy hour drinker at work, but I did take the time to bond with my colleagues. It was one of the reasons I stayed at my last company for so long. Our camaraderie was what got me through the tough times and also made work so much more fun. Having strong relationships at work makes it easier to communicate, collaborate, brainstorm and back each other up.
4. Be opportunistic. Always have your eyes and ears open for new opportunities. Keep your definition of success fluid so you're open to anything. Those who are proactive about their careers tend to get the farthest. I was able to learn a lot of new skills by raising my hand to help on random projects that came up over the years.
5. Take all your vacation. Unless you're planning on leaving your job in the short-term and want a vacation payout, don't leave your paid days off on the table. It makes such a difference to your mental health to get away from the office for more than just a weekend. Even if you don't have money to travel, staycations can be really relaxing and a great way to recharge.
6. Utilize your sick days. There were many times in my career when I pushed myself too hard to work when I was sick. I tried to be a hero and look tough, but of course I was just being stubborn. Once I had a blackberry and a laptop that made it easier to monitor emails if I needed to stay at home, but I wasted a lot of years showing my face when I should have just stayed in bed.
7. Contribute to your retirement account. If your employer has a 401(k) plan, start contributing asap! The earlier you begin saving and investing in retirement accounts, the better your future will be – seriously. If you're young, retirement may be the last thing on your mind, but trust me you won't regret "paying yourself first" by putting money into your retirement accounts.
8. Make SMART goals and stick to them. Most managers aren't that great at setting goals for their employees. Make their job easier and improve your chances of a promotion and a raise by showing initiative. Year end will be here before we know it. Start making your impression now.
9. Participate in social events. If your company organizes social events of any kind, do your best to participate. They're a great way to get to know your colleagues in a non-work setting. I always enjoyed going to volunteer events, team outings and celebrating birthdays and engagements.
10. Don't settle. It's hard to know for sure if you're going to like a job until you've actually been doing it for several months or even years. If you find your heart just isn't in your job anymore, don't lose hope. Sometimes switching departments can make a huge difference in employee satisfaction. But if that's just not possible or you want something totally different, make the effort to find a new job while you're still working. Better yet, consider engineering your layoff before jumping to a new company.
11. Make meaningful business connections. Building relationships with colleagues aren't the only important ones to focus on when you're working a 9 to 5. Get to know your clients and business partners. Having strong connections will not only help you in your current role, they could help you find a new job in the future.
12. Start a side hustle in your free time. The great thing about 9 to 5 jobs is most of them are only 4o hours, five days a week. That may sound like a lot, but trust me it's pretty darn reasonable. You can do a heck of lot in your time away from the office if you set your mind to it. I know from first-hand experience it's not easy, but it can be extremely rewarding and open up a lot of doors. You can start off by using my step by step guide on how to start a website.
13. Delegate. I used to avoid delegating work because I felt like that meant I was giving up. Oh how foolish and stubborn I was. After growing into my skin as a manager, I began to realize how amazing it is to delegate! It's one of the best perks of working in a corporate environment the more senior you get. Don't try to do everything yourself or you'll burn out. Teach your team how to take on new responsibilities and enjoy the perks of delegating work while you can!
14. Attend training classes and utilize education reimbursements. One of the great perks of large companies is the amount of free training sessions they offer. If your company offers education reimbursements – even better! Utilize your time on the job to brush up your skills and work towards new certifications.
15. Maximize your benefits. One of the things I didn't truly appreciate at my 9 to 5 until after I left was all of the benefits: health insurance, dental insurance, life insurance, disability insurance, a 401(k) plan with employer matching, unemployment insurance, etc. When you're self-employed you have to pay for all of that stuff entirely out of pocket and it's not cheap! Health insurance is the most expensive. I used to think a $200 some monthly premium was a lot until I had to start paying for health insurance entirely on my own. Take advantage of the benefits your employer offers!
Untemplaters, do you currently work a corporate job? What tips do you have on how to make the most of a 9 to 5 job?