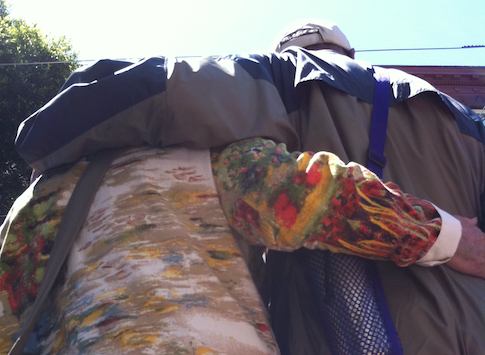 I recently found out two of my colleagues are getting married. They "scandalously" met at work, fell in love, still work together, and now they're getting married. It's all a bit nuts, but people do crazy things when they're in love. I really have no idea what their future holds. Hopefully it's lots of happiness, but they will certainly have their challenges. With all that time together at the office and now at home too, they could easily end up driving each other crazy. Can couples work together successfully without killing each other?
Their recent engagement got me thinking about just how many co-worker couples I've worked with and known over the years. In about a minute I could rattle off fifteen couples in my head, and probably still forgot a few, which is way more than I thought! Count how many you know, I'm sure you can think of at least a few. Below is a breakdown of my count of the fifteen couples. It's surprisingly even between the two groups.
Entrepreneurial couples who work together at their own small business: 8
Couples who work together at the same mainstream corporation: 7
There are so many factors that determine whether or not couples can work together successfully. And the dynamics of being entrepreneurial couples versus working together for someone else's corporation can be vastly different. But the principles that support building and maintaing a successful relationship are the same.
Do NOT Share An Office With Your Spouse
The very first couple I met who worked together was at my first internship in high school. The wife who got me the gig was a distant family friend, who turned out to be a biznatch, but that's a story for another day. Anyway, she was an entrepreneur who was onto her third business. Her prior attempts at entrepreneurship failed and she'd gone through a nasty divorce trying to settle custody for her son.
She was a bulldog and wasn't the type of woman to give up. She was determined to make this new business a success. Around this same time she also fell in love with a new man, and decided to bring her new beau on board as her business partner.
The day I arrived to work, she gave me a quick tour and showed me to her private office. "This is where I work, and Dan shares the office with me." His desk was literally two feet away from hers. Wow. I had to restrain my eyes from popping out of my head. Even as a high schooler I thought she was crazy to share an office with him, especially one the size of a closet. How do they not kill each other, I thought to myself. They wake up together, drive to work together, sit in a cramped office together, go home together, eat dinner together, hang out together, and go to bed together.
I was a hopeless romantic at that age, but even I felt suffocated just thinking about it! That was just way too much time together even for the sappiest of love birds. It wasn't a surprise when their relationship went south six months later. She was too controlling and he felt claustrophobic with her looking over his shoulder all day long.
How Can Couples Work Together And Maintain Healthy Relationships?
Several of the couples I know who met at work and later got married, found a healthy balance by working in different departments. A few of them also branched out so one person left to work for a different company. One guy I work with was so relieved when his wife switched to a different firm. He said the balance in their relationship improved dramatically. His wife's happiness increased too because she finally found a job that fit her interests a lot better. Their conversations were no longer filled with complaints about work all the time.
But there are also several other couples I know who have worked together for years, have no plans to change that, and have kept their marriages healthy and happy. It's pretty impressive that they've been able to accomplish so much together. They make couples who have never worked together and still divorce look like cop-outs. Here are some things to think about if you plan to or already work with your significant other.
Commuting: Even though it's convenient and cheaper to commute together both to and from work, don't make it a hard rule. People work at different paces, and sometimes things come up. Feeling pressure that someone is waiting for you all the time causes extra stress that you don't need. It's not a big deal if you commute separately, so just get over it.
Roles & Responsibilities: If you're a couple working for the same large corporation, you're lucky because your roles and responsibilities have already been decided for you. But if you're entrepreneurs, you're in charge of determining what those roles and responsibilities are, and that can get hairy. If you don't make things clear up front for both of you, someone's going to end up very disappointed when things didn't get done. It's fine if you share and swap tasks on certain things, just don't leave any grey areas.
Maturity & Trust: If your relationship is new or rocky, don't take on too much too soon. As tempting as it may be, don't spill all the beans either. The last thing you want is to reveal a bunch of secrets and have them all divulged to your coworkers if you break up next month. In order for couples to work together successfully, they need a mature relationship that's able to handle ups and downs without breaking down.
Listening & Opening Up: Business gets personal when you work together as a couple. So it's important you really listen hard to each other and open up. Talk about your concerns, fears, motivations, goals, and don't forget to celebrate your wins. Be patient with each other, but don't give up or be unwilling to change. Talk objectively and support one another.
Play To Each Other's Strengths: Can couples work together? Yes. Is it easy? No. One way to increase your chances of success are to make your differences work for you. Utilize your individual strengths to contribute to the whole. Make sure each of you is adding value and being appreciated. There's nothing worse than feeling unappreciated at work, especially if it's from your spouse.
Can Couples Work Together Without Being Stressed Out All The Time?
Working with your spouse can be especially difficult if you're running your own business together. There's a lot of stress that comes along with entrepreneurship. But that's also why it's so great being able to work with your significant other. Who to better understand what you're going through than him/her?
But just because both of you are aware of all the intricacies, deadlines, and hurdles of your business doesn't mean it's okay to let stress get out of control. I knew a couple who started off great running their own business together. But they ended up divorcing a year later because the husband couldn't stop working.
Building their business became his number one priority and his family got left behind. His wife lost interest in their business and goals in order to escape the stress. They barely spent any time together as a family with their son, and his wife felt that she and their son were no longer important to him anymore. The fancy jewelry he bought her to try and fix things didn't stand a chance to mend their marriage. Here are several things for couples who work together to consider in order to keep stress from spiraling out of control.
Stress Management: Easier said than done, stress management is crucial to whether couples can work together successfully or not. Scheduling in time for both of you to simply just relax and clear your heads will keep you from driving each other crazy. You can consider taking some of your vacation time separately as well. Since you're together much more than most couples, spending time apart can help give your relationship the breathing room it needs.
Conflict Resolution: Work together to resolve any conflicts that arise quickly. Use these situations as opportunities to strengthen your relationship. Utilize your trust and your teamwork skills to come up with solutions and act on them fast.
Income Diversification: With both of your paychecks coming from one basket, that can create a lot of stress and pressure on your financial situation. If you don't have any plans for one person to branch off into another line of work, sit together and come up with ways to diversify your assets so you have more than one income stream. Couples who work together need to take personal finance and planning seriously. If your ship starts sinking you want to have a life boat or two to jump into.
A Balancing Act: When couples work together, a lot of personal conversations will naturally revolve around work. That makes it hard to find separation between work and personal life because they blend together. But you can't forget about putting work aside regularly and having fun. Make sure you keep things fresh and talk about things other than work. Spend time with the rest of your family and friends to take your mind off of work, work, work.
Teamwork: There's probably no one you trust more than your wife or husband. And that's one of the great reasons why the answer is yes to the question, can couples work together successfully? You're already a great team because you're best friends. Utilize your partnership to work as a team to help alleviate stress. Help each other out, you'll be glad you did.
Untemplaters, do you work with your spouse? What have been your biggest challenges? How many couples do you know who work together?

Copyright 2013. Original content and photography authorized only to appear on Untemplater.com. Thank you for reading!