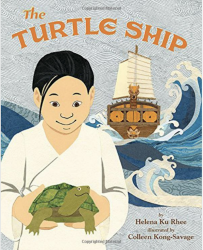 I recently got a copy of the children's book, The Turtle Ship, written by Helena Ku Rhee and illustrated by Colleen Kong-Savage. The book was released in June, 2018 and is a true feast for your eyes.
I was immediately blown away by the intricacy of the artwork, which was painstakingly crafted by Colleen using countless colorful layers of delicately hand-cut paper.
The story follows the journey of a boy named Sunsin and his adorable pet turtle. The book teaches children the benefit of being a good role model and the excitement of pursuing a dream. Sunsin has a determined spirit while his turtle delights us with his patience and calm character.
Although the recommended age range for this book is 6-9 years, the illustrations can truly be enjoyed by all ages. My 1 year old son loves books no matter what the suggested age range is and he quickly gave The Turtle Ship several dozen smiles of approval the first time he got his hands on it. I couldn't agree more!
Plot Summary
The story stems from Korean history and naval engineering, loosely based on the true story of Admiral Yi Sun-sin and his Turtle Ship. The main character is a young Korean boy named Sun-sin. Although his family is poor, Sun-sin has big dreams of sailing around the world with his pet turtle Gobugi. 
When the king's court announces a battleship design contest, Sun-sin jumps at the opportunity to win the grand prize – sailing the world with the royal navy. With scarce resources, Sun-sins attempts to build a battleship quickly fail as the mighty ocean waves come crashing down. About to give up, Gobugi unexpectedly inspires Sun-sin with a clever idea he must pursue. 
Author & Illustrator Bios
Helena Ku Rhee was born in South Korea and was inspired to write The Turtle Ship from the stories she heard growing up from her parents and grandparents. She writes children's books at night after spending her days working at a movie studio in LA. The Turtle Ship is her picture book debut.
Colleen Kong-Savage is a full-time illustrator and graphic artist in New York City. She fell in love with decorative papers during her first job at an art supply store in Manhattan. She carefully selected the colorful, textured papers used in The Turtle Ship to accurately depict the clothing, landscape, and living conditions of the Joseon Dynasty. You can view more of her illustrations at kongsavage.com 
The Turtle Ship Review
I had no idea that turtle ships (Geobukseon in Korean) actually once existed! History was also my worst subject in school so perhaps that explains it haha. I think it's really cool the book was inspired by the true story of Admiral Yi Sun-sin and his Turtle Ship. You can see from the picture below how impressive turtle ships look in real life. The Turtle Ship's story has good values to it, something I always admire in children's books. It's also nice to get a glimpse into what life was like during the Joseon Dynasty, a period I know very little about.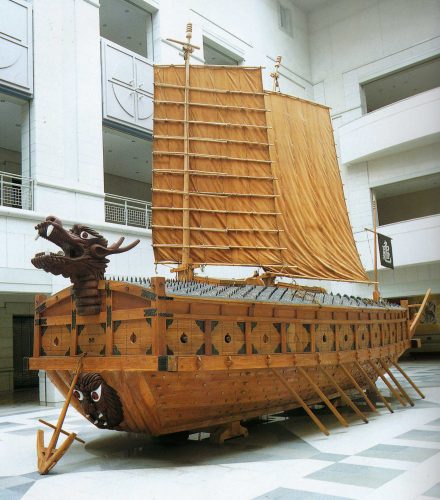 Ultimately though, what made this book a top pick for me is the illustrations. They are so unique and the detail that Colleen Kong-Savage put into each page is quite impressive. Just look at each little oar on every ship, the 3D effect of the waves, the facial expressions of the characters, and the lifelike texture of the trees just to name a few. I also found the turtle Gobogi to be the gem of the story that shone through in the illustrations. He's a character you and your kids will quickly come to love. He's so cute it makes me wish I had a pet turtle! 
Every page is so colorful and intricate that it's easy to get lost in a daydream looking at the art. When my son and I are reading the book I sometimes catch myself forgetting to read aloud because I'm staring at the illustrations. He doesn't mind one bit. Although he's in love with the cover and frequently flips back just to look at the big picture of Gobogi on the cover. I rate the book 5 stars!
Product Details
Age Range: 6 – 9 years
Grade Level: 1 – 2
Hardcover: 32 pages
Publisher: Shens Books & Supplies (June 5, 2018)
Language: English
ISBN-10: 1885008902
ISBN-13: 978-1885008909
Product Dimensions: 8.8 x 0.2 x 10.8 inches
Quick Preview Of The Turtle Ship
Curious to get a glimpse of the book? Here's a quick preview. You can get a further preview and purchase your own copy here. It's currently available in hardcover format.
Related reading: Colleen shares with us 3 career lessons she learned from martial arts that helped her illustrate The Turtle Ship.
About The Author: Hi there, I'm Sydney! After ten crazy years, I left a grueling six-figure job in 2015 for a better life. Now I spend my days writing, freelancing in various capacities and finding new ways to stretch my brain. I'm crazy about photography, gadgets, traveling the world and stopping to smell the roses. Untemplater is where I share my insights and adventures with the world. I'm continually motivated to write and evolve in hopes that I can help others improve their lifestyles, careers, wealth and happiness. Every day is a gift! Be sure to check out my how to start a blog and Untemplater recommendations pages. Thanks for reading!
The Turtle Ship Review
The Turtle Ship: Overall Score

Illustrations

Plot

Age appropriate
Summary
The Turtle Ship story stems from Korean history and naval engineering, loosely based on the true story of Admiral Yi Sun-sin and his Turtle Ship. The illustrations in the book by Colleen Kong-Savage are colorful, beautifully intricate, and bring the story to life.