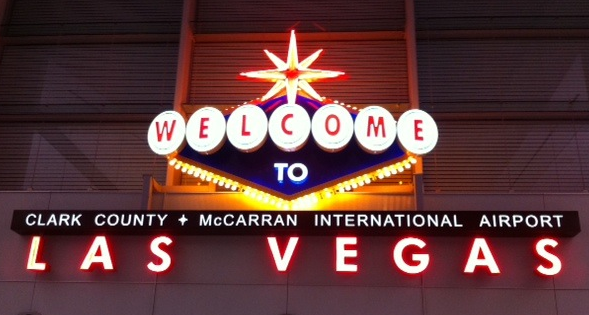 I've been to Las Vegas three times in my life, and each trip were all completely different. The first time I was in Vegas I was young enough to need a babysitter while my parents went gambling. I played a lot of arcade games and swam at the pool. The second time I went to Vegas was sometime after college, which was a relaxing, slow paced trip taking in the sights and spending time in the casinos. My third and most recent trip to Vegas was with a group of girlfriends for an engagement celebration. Totally different experience. I had a blast bonding with the girls and I can't believe how much Vegas has changed since I was there last.
It's funny that ever since my trip I keep seeing a ton of Las Vegas commercials on TV. Perhaps they've always had this many, but I just notice them more now since I have my trip fresh in my mind. Well in any case, if you've ever thought about visiting Las Vegas, you should totally go! Here are some tips on visiting Vegas that I picked up from my latest trip.
Cabs Will Rob You Blind
Make sure to grab a map of the Strip and the surrounding streets. Start to familiarize yourself with where things are as soon as you can. Vegas may look small on your GPS or when you're looking out your hotel window, but it is HUGE when you're trying to walk around, especially in 102 degree heat. Even in dry heat with no humidity, 102 can feel freakishly hot (especially coming from SF) and you will quickly dehydrate if you're not careful. And believe me, everything looks much closer than it really is when you're there because all the resorts are enormous.
So, chances are high you'll be taking cabs to hop from one place to another. Unfortunately, all but one of the six or so cab drivers we had tried to rip us off by going the loooong way to our destination. I hate getting ripped off, and don't want the same to happen to you either. So, direct your cab driver with street names and act like you own the place right from the get go so you won't end up wasting a lot of money on fares and time stuck at red lights. Even if the driver tells you "there's so much traffic, I will take you the fast way" chances are they are lying through their teeth and have every intention of finding the slowest route, especially if you're with a group of girls. Don't be afraid to ask the bell desk for tips on directions and pay attention to where the cabbie is driving!
Good Looks, Skimpy Clothes, and Pimping Promoters
There's only one place I've been where wearing skin tight snakeskin pleather from head to toe with six inch platform heels looks normal, and that's in Vegas. If you walk around the newer resorts like The Cosmopolitan, you're guaranteed to see women walking around in the skimpiest and tightest clothes possible (even if they look like over stuffed suitcases). Vegas just wouldn't be the same without all these ladies dressing for attention.
Getting noticed has its benefits, and if you're female and want to get into clubs fast with free drinks, having good looks, hot outfits, and promoters on speed dial comes in very handy. Looks and the right attire are self explanatory, but perhaps you're wondering what are promoters? Well they're basically scouts who get paid by clubs, alcohol distributors, and patrons. The main way they make money is by getting good looking people, primarily attractive girls, to show up and party at a venue or "advertise" a beverage brand by sipping on free cocktails in labeled cups at a club. In exchange for free cocktails, the alcohol brand promoters may also ask to take your picture holding their product. Considering drinks at clubs can cost $15+ each, that's a good deal!
Club promoters are a little different though since they are trying to get you to show up at specific venues at a future time (note: you'll find drink promoters at venues after you get in). If it's a Sunday, a day when most people will be flying home, you're more likely to get on the VIP guest list to a hot club and get in for free if you run into a promoter. If it's a Saturday night with a big event in town though, chances are you are still going to have to pay a cover charge to get into one of the hottest clubs, but a promoter may still be able to get you on the guest list for free if you show up early enough. Understand that a lot of promoters are looking for tips in exchange for VIP passes and the like, so don't expect to get everything for free, and of course be nice to them.
Tricky Advertising & Concierges
There's a lot going on in Vegas every night of the week and sometimes it's easy to get caught up in it all. Just remember that not everything is as good as it may seem on paper or on billboards, so be careful how you spend your money. Just because a party is advertised as featuring a famous DJ or celebrity, that doesn't mean he/she will be there for the entire duration of the event. Sometimes artists only show up for one hour and then they're gone, so try and find out as many specifics as you can before laying out a lot of cash for tickets.
Also don't rely on your resort concierge alone if you're trying to get show tickets. You are paying for the convenience of their services, so be aware there are going to be better deals out there. Concierges probably aren't going to give you the most honest opinions about shows either because they are trying to make as many sales as possible. So do your own research and shop around if you are flexible and want to save money.
Join A Free Membership Rewards Club
I've never really had an interest in gambling my own hard earned money, but a lot of people come to Vegas just for the thrill of winning big. The casinos are open around the clock and you'll find your pulse start to race every time you hear people cheering around one of the tables. If you plan to spend money at the casinos, ask if they have a free membership rewards club. Many memberships also earn points if you spend money buying show tickets, dine at restaurants, and buy drinks at eligible resorts. You can typically get decent coupon books or bonuses just for signing up too. Some memberships are good at multiple resorts as well like Caesars Total Rewards program which is good at Caesars Palace, Harrah's, Flamingo, Rio, and Bally's.
Skip The Buffets And Catch The Free Shows Instead
What's a trip to Vegas without eating at one of the buffets? Well, I was really looking forward to the buffets before my trip, but looking back I think they are too overrated. I paid $35 for The Buffet at the Encore for lunch, which included an hour long wait to get in. The wait wasn't that bad because time past fairly quickly chatting with my friends, but I don't think I'll do it again if I go back. The food was good, but it wasn't incredible. Since there are so many fantastic restaurants in SF, it really wasn't worth $35 imo.
I had a much bigger thrill watching the Bellagio fountain show for free and the Rio's free Show In The Sky. I didn't get a chance to catch the Mirage's free volcano show, so I have that on my to do list if I make another trip back someday. Pick up a free Vegas guide to get a list of all the free shows and their schedules.
Come With Patience, There Are Lines EVERYWHERE
Close to 39 million people visit Las Vegas each year. That's a LOT of people. And what comes with that many people? Crowds and a lines everywhere! Want to get a cab? Wait in line. Want to go to a club? Wait in line. Want to pig out at a buffet? Wait in line. Despite the crowds, things operate pretty efficiently if you pay attention to the signs and are nice to the employees.
Bring your patience with you because standing in line is inevitable in Vegas unless you're an actual celebrity or a frequent visitor with the right connections. And if you're under 21, I suggest just waiting to visit Vegas until after you're of legal age. Some bouncers may not care if you have a fake ID, but a lot of them check quite closely and even use magnetic scanners to confirm if your ID is valid. And don't even try to gamble if you're under age.
Pool Parties, Nightclubs, And Dayclubs
Pool parties are all the rage in Vegas now and drinking isn't reserved just for night clubs. You really can party around the clock if you want to, and the resort owners are smiling all the way to the bank. If you're a light sleeper and are staying at a resort that hosts pool parties, go to sleep wearing ear plugs or you'll wake up hearing the music through your windows.
I laughed when I noticed a sign outside the Marquee at The Cosmopolitan that said Nightclub & Dayclub. It was the first time I heard the term dayclub and I still find it funny. Be prepared to pay a fortune for drinks at these venues though and don't bring anything valuable with you. The crowds can get out of control, so if big parties aren't your thing, save your money and skip the clubs.
Please Don't End Up Dead In The Hospital
With all the partying and drinking going on, accidents are bound to happen. It's not worth risking your life though, so please know your limits and take care of yourself and your friends. I saw a very depressing sight when I was walking around a resorts one evening that sadly probably happens way too often. A young woman, probably in her early 20's was being rolled away in a wheelchair by security with her mouth gaping open, foaming at the mouth, and totally unconscious. Hopefully the ambulance arrived in time to treat her from alcohol poisoning, but it is disturbing to think she literally could have died from her own doing.
Have a good time, but seriously know your limits and please be responsible!
Conferences, Concerts, And Shows
Ever wondered what is there to do in Vegas? Tons! Did you know there were over 19 thousand conventions in Las Vegas last year? So chances are you can find at least a few that relate to your line of work if you're looking for an excuse to visit. Even if conferences aren't your thing, there are hundreds of concerts and shows each year of all genres. You can see pop singers, boxing fights, dance crews like the Jabbawockeez, musicals, Cirque du Soleil, comedians, magicians, and way more.
Untemplaters, have you ever been to Las Vegas? What were your impressions? Do you have any tips on visiting Vegas from your own experience?