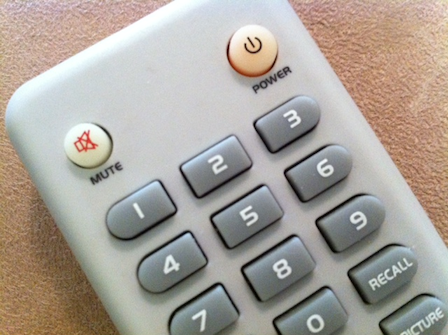 Hello, my name is Sydney and I have a TV addiction.  There I said it!  I have been debating whether or not to come out with this confession for a while now, and finally decided – yes I need to come out in the open for my own good!  And as part of my recovery process I want to help you overcome your TV addition too!
Step 1 – Identify why you are addicted.
I've loved TV my whole life and look forward to watching shows all the time.  I'm a homebody so it's relatively cheap and fun entertainment.  Can you tell I don't get out much?  I need to work on that!  I also wanted to be an actor growing up and I think that's also a part of why I love watching so many shows and movies.
Step 2 – Count the number of TV shows and DVDs you watch each week.  If it is more than 7 (1 show a day) you are an addict!
Looking at the upcoming Fall schedule, there are 20 returning shows in my programming schedule and 5 new shows I want to watch.  That gets me to 25 TV shows plus an additional 2-3 DVD movies a week.  WOW I definitely have a TV addiction.
Step 3 – Next, total up the number of HOURS you watch a week.  Did you know Americans watch 34 hours of TV a week on average?  That adds up to almost 74 DAYS a year.
The TV shows in my list add up to about 33 hours and the DVDs are roughly 5 hours, so that's approximately 38 hours a week.  Sheeeesh that's SO bad.  I am SO going to put those hours to better use!
Step 4 – Come up with a weekly target.  If you're as addicted as me, take your weekly total and divide it in half.

Ok so my goal is 19 hours, which is still a lot of TV per week and manageable.  I'm gonna make it happen!
Step 5 – Analyze your TV addiction by dividing the shows into 6 categories.  Educational, Action, Drama & Sitcom, Reality, Sports, Movies & DVDs.
This is how my 38 hours a week breaks down.  I sure do like a lot of Action shows!
Educational: 2 Foreign Language Shows, Passport to Europe, Samantha Brown: Latin America, Local news (~ 6 hours)
Action: Vampire Diaries, V, Fringe, NCIS: Los Angeles, Nikita, Bones, The Event, Hawaii Five-O, No Ordinary Family, Make It or Break It, Parenthood, Terra Nova, The Secret Circle, Grimm, Unforgettable  (~15 hours, 4 new shows)
Drama & Sitcom: Glee, Desperate Housewives, Seinfeld reruns, How I Met Your Mother, Up All Night (~ 5 hours, 1 new show)
Reality: America's Next Top Model, So You Think You Can Dance, Undercover Boss, Extreme Makeover: Home Edition, Secret Millionaire (~ 7 hours)
Sports: n/a  🙂

Movies & DVDs: 2-3 movies a week (~ 5 hours)
Step 6 – Identify the shows you want to cut and DELETE them from your scheduled recordings. You can do it!

OK I've got my list down to 19 hours!  These are the shows I'm cutting out:  Local news, 1 Foreign Language show, Make It or Break It, Parenthood, Hawaii Five-O, Unforgettable, Seinfeld, How I Met Your Mother, Up All Night, America's Next Top Model, So You Think You Can Dance, Undercover Boss, Extreme Makeover: Home Edition, Secret Millionaire, 1 movie
And if any of the 3 new shows bomb (Terra Nova, The Secret Circle, and Grimm) I'm going to those out too along with any returning shows that lose steam.  I only want to watch shows that I really enjoy and drop the rest.

Step 7 – Discipline yourself to only watch the shows in your list.  Don't channel surf.

I think I can manage this.  I'm not a channel flipper, I just have to reduce the amount of shows in my recording schedule.
Step 8 –

.

Multitask when you do watch your shows and movies.
I love to multitask, but I need to be smarter about what I'm trying to multitask.  I've learned that reading and writing emails and articles requires too much concentration to effectively multitask with the TV on.
What does work well with the tube on is folding laundry, ironing, sorting through paperwork, paying bills, washing dishes, stretching, and doing sit-ups.
Step 9 – Have at least one TV free day each week.
I'm picking Wednesday.  It'll be a good way to break up the week and help me keep my agenda items on track before the weekend.
Step 10 – Avoid watching TV during the day.  Get outside, exercise, run errands, meet up with friends, work on some agenda items.
I've been getting better about this on the weekends.  I love to go hiking, go out to eat, pick up books at the library, and catch up on errands.
UPDATE 10/26/2014: Since I wrote this post, I've cut my TV hours per week all the way down to only 6-8 hours a week and sometimes even less than that!  It feels so good having more free time to be active and productive instead of glued to the tube.  I still enjoy watching shows and movies, but now I do so in moderation.  I hope you can overcome your TV addiction now too!
UPDATE 2/5/2017: I've come such a long way in the last couple years. I used to be glued to the TV for hours and hours each day. By cutting out shows and filling my time with other activities, I no longer crave watching TV each day. I also stopped recording a lot of shows, so I no longer feel an urge to watch them before my dvr fills up. If you make up your mind you want to fight a TV addiction, you can do it!
UPDATE 8/13/2019: TV is a treat for me now and not something I feel addicted to at all anymore. My life has been filled with so many other exciting things. Now I average just 5-8 hours a week, sometimes even less.
Recommendation To Make Up For All The Lost Time Watching TV
Manage Your Finances In One Place For Free – Get a handle on your finances by signing up with Personal Capital. They are a free online platform that securely aggregates all your financial accounts in one place so you can see where you can optimize. They also offer other free financial tools to help you monitor your cash flow, stick to a budget, reduce fees in your 401(k) and track your net worth in realtime. Let Personal Capital track your finances so you can gain more freedom to do your own thing. It takes less than one minute to sign up!
Invest Your Money Efficiently: Betterment, the leading digital wealth advisor, is an excellent choice for those who want the lowest fees and can't be bothered with actively managing their money themselves once they've gone through the discovery process. All you'll be responsible for is methodically contributing to your investment account over time to build wealth. In the long run, it is very hard to outperform any index, therefore, the key is to pay the lowest fees possible while being invested in the market. Let Betterment build a customized portfolio for you based on your risk tolerance.
Start Your Own Website – Want to make more money? Work on building your brand by creating your own website the easy way with Bluehost for super cheap. You can register your domain for under $20/year and get hosting for only $2.95/month. Whatever your interests are, focus on building your skills and developing your own unique niche! I've been blogging since 2010 and it has allowed me to break free from the corporate grind to travel, work from home, and do so many more things I've always wanted to do but couldn't. There's not a week that goes by where I'm not thankful for starting this site! Read more about how to start a blog.